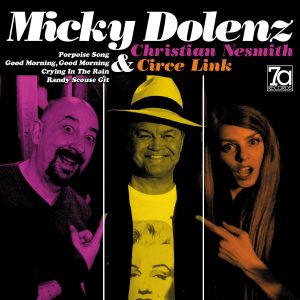 By Fred Velez
7a Records have been very busy with new releases by Micky Dolenz following last years critically acclaimed issue of Dolenz's MGM Singles Collection.
The two cd set 'An Evening with Peter Noone & Micky Dolenz' was culled from conversational sessions recorded in early 2016 at The Space at Westbury and the Memorial Auditorium in Montclair, NJ, where Noone and Dolenz sat before an audience and recounted fun and hilarious stories about their careers. Lots of anecdotes and inside show biz tales were told with the audience enjoying every hysterical moment. The conversations were well recorded so if one closes their eyes they could imagine themselves sitting in the audience with Noone and Dolenz just inches away. For fans who attended these conversation shows this collection makes a great souvenir and for those who weren't there this is the next best thing to being there.
For record store day in England, 7a Records issued a limited edition 45 vinyl single of two previously unreleased Dolenz songs. Pressed on translucent vinyl 'Chance Of A Lifetime' and 'Living On Lies' were both recorded in the late 1990's/early 2000's when Micky was trying to launch a solo singing career. The songs written by Tom Deluca, Mike Slamer and Dolenz capture the Monkees jangling guitar sound with a harder, rocking edge to the music. Micky is in great voice on these songs, both which could have easily fit on the Monkees 'Good Times' album.
Most recently 7a Records slipped out a limited to 500 copies EP (extended play) purple vinyl 45 teaming Dolenz with Christian Nesmith (son of Nez) and Circe Link. Side one features a melody of 'Porpoise Song' seamlessly segueing into the Beatles 'Good Morning, Good Morning' with Micky singing lead and Circe complimenting Dolenz with her background vocals and Christian providing additional vocal harmonies and guitar backing on the track. Side two is highlighted by a duet between Micky and Circe on the Everly Brothers classic 'Crying In The Rain', with their voices blending beautifully with lovely guitar work by Christian. The record ends with a remake of 'Randy Scouse Git', done at a slower pace with sparser arrangements and with great vocal harmonies by Circe, this version of the song has a sense of fun to it, especially at the songs conclusion with Micky and Circe breaking out in laughter and giggles.
These new releases from 7a Records all have the stamp of quality that executive producers Iain Lee and Glenn Gretlund have made their trademark since launching the label. All the releases are worth picking up, and I highly recommend folks pick up the limited edition records while they're still obtainable. Kudos to 7a Records for these great releases. I'm looking forward to the next batch!
https://www.amazon.com/gp/aw/d/B01B51HK5A/ref=mp_s_a_1_1?qid=1466183565&sr=8-1&pi=SX200_QL40&keywords=micky+dolenz+peter+noone&dpPl=1&dpID=51RvGMDgRjL&ref=plSrch
https://www.amazon.com/gp/aw/d/B01EKMOT78/ref=mp_s_a_1_1?qid=1466183389&sr=1-1&pi=SY200_QL40&keywords=Micky+Dolenz&dpPl=1&dpID=518noRoiwIL&ref=plSrch
https://www.amazon.com/gp/aw/d/B01GI8BETS?dpID=51BL5ef5ApL&dpPl=1&keywords=dolenz%20nesmith&pi=SY200_QL40&qid=1465216995&ref=plSrch&sr=8-2
Fred Velez, 2016.

After the departure of Peter Tork, The Monkees conducted a tour across North America throughout 1969. They were backed by the seven-piece R & B band Sam & The Goodtimers. One concert from this tour (thought to be the May 10, 1969 performance in Wichita, Kansas at the Century II Convention Center) exists as bootleg, and "I'm a Believer" can be heard here. It's an absolutely horrible recording that I'm only posting for the historical curiosity of it. For years there have been rumors that the band recorded a show on this tour, but no tapes have ever turned up. Please visit my website at www.monkeesconcerts.com.
This audio comes from the only known bootleg recording of The Monkees' 1969 tour, thought to be the May 10, Read more
The Monkees, backed by Sam and The Goodtimers, perform their single "Someday Man" on The Joey Bishop Show in April Read more
Micky Dolenz rehearses "Zor and Zam" (playing a snare drum) in Cleveland, Ohio in August 1987. The Monkees were visiting Read more
During a publicity photo shoot for the band's 1987 album Pool It!, someone at Cherokee Recording Studios in Los Angeles Read more
The Monkees open up their concert in Philadelphia, Pennsylvania at Valley Forge Music Fair on July 29, 1989. Songs included Read more
The Monkees perform in Philadelphia, Pennsylvania at Valley Forge Music Fair on July 29, 1989. Songs included are As We Read more
The Monkees win the award for Favorite Music Group on the Nickelodeon show Rated K: For Kids, By Kids in Read more
The Monkees perform "Don't Bring Me Down" (from their 1987 album Pool It!) live in Jackson, New Jersey on September Read more
Circa 1987. Please visit my website at www.monkeesconcerts.com.
The Monkees open up Nickelodeon's music video countdown show, Nick Rocks, in November 1987. Please visit my website at www.monkeesconcerts.com.
Here is an another piece of this wonderful concert. The Monkees live concert [21-04-1989] in the Netherlands. Featuring Davy Jones, Peter Tork & Micky Dolenz
(1)The Monkees (2)That Girl (3)Dark Shadows (4)THE Cat (5)Family Affair (6)The Road Runner Show (7)The Newlywed Game
As The Monkees fought for creative control of their music, tensions began to mount and tempers raged out of control leading to a few "punch-ups".