Davy Jones and David Cassidy team up at bergenPAC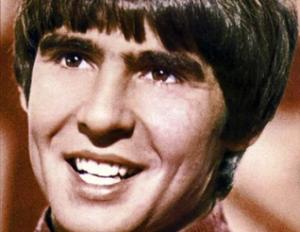 Davy Jones has been performing since he was 11 years old.
Davy Jones, that is, who will be appearing Wednesday, with special guest David Cassidy, at bergenPAC in Englewood, after an exhausting year that began with solo shows in Las Vegas, Indiana and Florida in January; reunited him with old pal Peter Noone (of Herman's Hermits) in Greensburg, Pa., in February; followed by another two months of solo gigs and then … hey, hey … a reunion tour with Monkees Peter Tork and Micky Dolenz, through the U.K., the United States and Canada.
And how did that go?
By all accounts, the lads were cooking. Fans turned out in force to see the trio — minus original band mate Michael Nesmith, who has appeared with them only sporadically since the 1970s — perform 43 shows in two months.
"Let me tell you," the 65-year-old Jones says by phone, "to play Albert Hall, sold out, 7,500 people and you can't get a ticket … it's an adrenaline rush. It's like, 'Wow! These guys still have it!' "
And having it, Jones adds, is great. Until you've had it.
Dolenz and Tork had been scheduled to appear with him this week at bergenPAC and 10 other dates, or so it was announced. In fact, Jones says, "the tour was only supposed to go until July. And it was great, the best time we've had because we're all on the same page now. We gelled onstage and off. But then more dates were being added. And more. And then the next thing we knew, they were talking about Japan, Australia, Brazil, and we were like, 'Wait a second. This is turning into something more than a tour.' "
The lads, alas, aren't lads anymore. "We were doing 40 songs a night, plus other material. Some of these shows were 2 1/2 hours long. … Then there was the travel, getting to the next venue with no time to revive. … The audiences were great. But, let's face it, we're not kids."
The demands were a lot easier to deal with 45 years ago, when they signed on to star in a sitcom that had been inspired by the madcap Beatles films "A Hard Day's Night" and "Help!"
The Monkees were an instant sensation, and their songs ("Pleasant Valley Sunday," "I'm a Believer" and dozens of others) sold millions of copies.
As Jones is the first to admit, most of the group's early recordings were made in a studio, featuring top-notch session musicians like the Wrecking Crew. But Tork, Dolenz and Nesmith knew a thing or two about guitars, drums and keyboards, and when it came time to tour, they had no problems duplicating their sound.
"In a sense," Jones says today, with a laugh, "we were our own cover band."
Once they were on the road, Jones, who performed most of the vocals and shook a mean tambourine, finally realized what sensations he and The Monkees had become. It was a fact of life that sometimes made it difficult for their opening acts, ranging from The Fifth Dimension and Ike and Tina Turner to — egads! — Jimi Hendrix, who opened seven shows before calling it quits, because Monkees fans literally booed him off the stage.
"Not my cup of tea," Jones recalls of Hendrix. "Micky, Peter and Mike were musicians and it was different for them. Musicians revere him. Our fans didn't like him. And, you know, it was a strange fit. But that's what happened in those days. If we had played Vegas back then, they probably would have put us up there with Don Rickles."
Although he still performs regularly, the Manchester, England-born Jones now tries to devote a decent amount of time to his family — and to his horses. He's been breeding and racing horses for years at his primary residence in Beavertown, Pa., and admits it is a bit of an addiction.
"It's kind of like the Mafia," he says. "Once you're in, you're in."
The same could be said for performing, which has been a part of Jones' life since he was 11. By the early '60s, he was already a Broadway star, and a Tony nominee for his performance as the Artful Dodger in "Oliver!"
He appeared with the "Oliver!" cast on "The Ed Sullivan Show" the same night as the Beatles did in 1964. And he soon found himself palling around with the likes of Judy Garland and the stage stars Shirley Jones and her husband Jack Cassidy, father of David. (In the early 1970s, thanks to his success on "The Partridge Family," the younger Cassidy followed in Davy Jones' footsteps, becoming that decade's ultimate teen idol.)
Today, when Jones performs solo, he tosses in some Broadway tunes, some original compositions, lots of stories and, oh yes, a whole bunch of Monkees songs.
"People still enjoy them," Jones says, "and that's great. Although it worries you, sometimes. My biggest fear, years ago, when I played Jesus in 'Godspell,' was that I'd be dying on the cross one night and someone would yell out, 'Hey, Davy! Do 'Daydream Believer!' "
via Davy Jones and David Cassidy team up at bergenPAC – NorthJersey.com.