My Favorite Monkees Memories With Lynne Barber
Do you have a special Monkees memory or two (thousand!) that you want to share? I want to hear from you. Email me at Macwriter1@aol.com for future consideration on Monkees.net.  Please be as detailed as possible in explaining your favorite Monkees memories.  If your story is accepted, you must be able to provide photos from your collection and/or another with you and the guys. Sorry, your story will not be considered without photos to support it. Thanks!
By M.A. Cassata
Lynne Barber is from The UK and like many of us is proud to be a first generation Monkees fan. She was once a big Beatles fan, too, but when our favorite guys hit the scene, Davy, Micky, Peter and Mike soon became her all  too consuming passion.
Says Lynne: "It was great watching the TV show and then arriving to school to meet all my friends to talk about the show, our Monkees records—show pictures we found in magazines and swap Monkees bubblegum cards."
Again, like most us that were still in school, Lynne had a limited amount of pocket money to spend on the latest fan magazines that featured The Monkees. At the time, popular UK magazines were New Musical Express,  Jackie, Fab 208 and of course,  The Monkees Monthly.
In this edition of "My Favorite Monkees Memories", Lynne tells us what is was like growing up in the UK as a  first generation  Monkees fan, going to the concerts, meeting the guys,  favorite songs, collecting Monkees  memorabilia and more.
(Fan photos: Lynne Barber)
Connect with Lynne on Facebook
Let's start with why are you a Monkee fan?
My mum had the radio on all the time when I was young so I listened to all sorts of music.  At first Cliff Richards was my favourite then I moved onto the Beatles.    By then end of 1966 I must had been ready for something new and exciting, particularly as the Beatles music was changing.   The guys were all good looking young men with their own individual personalities, the show gave the fans the opportunity to get to know them a bit.  I did not realize at the beginning that they were actors playing the part of a band but even so I think a lot of their real personality went into the part they played in the show.
The whole Monkee package added up to something wonderful for me.   I agree with Davy 'The Monkees are like the Mafia, once you are in you are in'.  I cannot understand how people can say 'I used to be a Monkee fan'.  I signed up for life!
How old were you when you discovered the Monkees for the first time?
I live in the UK so I did not know anything about the Monkees until I saw the advertisement for the show in the TV program magazine.  The photo and the advert was the first time I had heard of them but I actually saw the show for the first time on Saturday the 31st December 1966.  I was 13 and a half years old.
What was it like to be an original fan from the sixties and living in the UK?
Before I saw the first episode of The Monkees I was a Beatle fan but from the first minute of the show the Beatles faded into the background and the Monkees became my passion. It was great watching the show on a Saturday then arriving in school on Monday morning to meet all my friends so we could talk about the show, the records, show each other pictures we had found in magazine and swop bubble gum cards. We would argue about who was the best Monkee.   My limited amount of pocket money went on fan magazines that contained articles about the Monkees, so Jackie and FAB 208 became my weekly buy along with my monthly fix of the Monkees Monthly.  I now realize that we had different magazines in the UK than you had in the States.
Did you join a UK Monkees fan club?  
I joined the fan club but never did receive a full fan club pack. I still have it and there has always been bits missing from it. I spent my birthday and Christmas money on singles and the first two albums, which caused rows with my mum who said I should be using the money to buy clothes with, but all I cared about was having as much Monkee memorabilia as I could get.
Were you one of the thousands of UK fans that met them at the airport?
I envied the fans that were allowed to stand outside the hotel and the airport and go to the concerts in London in July 1967.  I felt bad about not being able to go and could not understand why they only did concerts in London and did not travel to other towns.
Whenever one of the Monkees came to England, I found myself glued to the television hoping to get a glimpse of them one the news or one of the other shows like Top of the Pops.  I thought that it was great that one of the Monkees was English, it meant we had more of stake in the group than we would had done all four were American.   I felt that as the Monkees spent most of their time in America that it was easy for the fans to have access to them but I realise now that America is a very big place and most fans had no more access to them as  we did here in England. I dreamt of visiting California and bumping into one or all of the Monkees.
What was your favourite part of the TV show?
I do not have a favourite part of the show, I just loved it all.  I sat glued to the T.V. during the whole show enjoying every minute of it. A fan could imagine that she was part of the show too and she was the one that Davy or one of the other guys fell in love with.   The half an hour just rushed by so I always ended up feeling disappointed that the show was over and I had to wait yet another week for more.  Having a weekly doss of the Monkees did set me up for the week ahead and left me feeling good. This feeling carried onto the next week and my next doss of the Monkees. My  favourite episode is "The Devil and Peter Tork".
Were you still a strong fan after the  TV show ended?
Yes I remain a strong fan for quite a while, I bought some of the singles that my friends had not even heard off and I kept looking out in the magazine and newspaper for information about them but they did fade away because I could not find out anything.  I kept playing the music that I had and kept on looking at the scrap books I had made.   I  eventually found out that Micky was living in England so I did get to know a few things and I did eventually start seeing both Micky and Davy on the odd chat show, news programs and children's programs.   I watched Metal Micky because Micky directed it and I saw the show about the making of Bugsy Malone.  My deep passion for the Monkees emerged again when they guys toured the UK in 1989.  Since then my involvement with them has been as strong if not stronger than it was back in the 1960s.
Did you have a favourite Monkee?
During the first show I fell for Davy, he was so cute, with a wonderful personality.   The sort of guy that every girl would love to have as her boyfriend.   A few weeks later I found out that Micky was none other the Micky Braddock from Circus Boy, so of course I was already in love with him.  I just loved watching Circus Boy so Micky became my favourite with Davy being a very, very closed second. 
Did you have a favourite Monkee period and why?
No I cannot pin point a favourite time in my Monkee life.  I loved the fact that I was there from the beginning, it was great being a young fan when the guys were also young but it is equally as great growing old with them and having all the experiences that I have had over the years. I have done things since 2001 that I wish I could had done as a teenager for example seeing six shows in eight days, but better late than never.
How many concerts have you actually attended?
The four Monkees came to England in July 1967 but I was too young to be allowed to go to London to see them.  I was so upset that I had missed out on that and believed that I would never see the guys live but I have certainly made up for it since then.    I opened the local newspaper at the beginning of 1989 to see an advertisement saying that The Monkees were on tour. I could not quite believe that The Monkees were touring in the UK and coming to my hometown too.  I rushed off to the box office to buy two tickets for that show.  I walked on air for weeks looking forward to the show and I was on cloud nine for weeks afterwards.   I finally got to see The Monkees live, how great was that?    I had been playing their music for years so my son was very familiar with The Monkees, he came to the see the concert with me.   He was impressed with the show especially as Micky, Davy and Peter did a rap number near the end of the concert.   I then went onto to see all four Monkees in Cardiff in 1997.  My son was now 21, he came with me again and was impressed that such old men could put on such a long and lively performance.  I saw Peter twice in London, once at the Borderline Club and the other time at the 101 Club and he was at a memorabilia fair in Birmingham. I went to that too.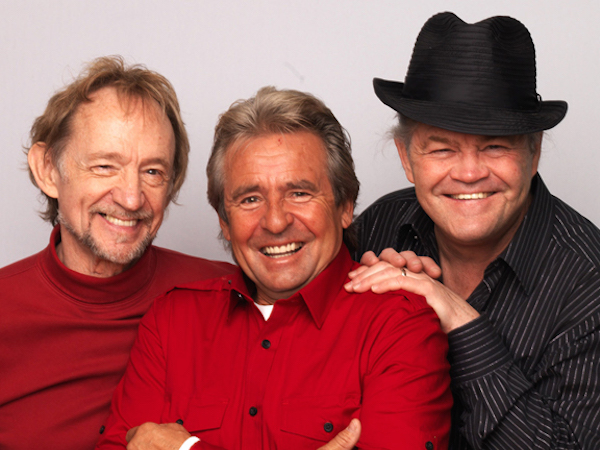 In 2001 I finally got to experience another one of my dreams and that was to go to the States, I wanted to visit California because that is where the Monkees came from, but settle for New York, the purpose of the trip was to see Micky, Davy and Peter at the Westbury Music Fair on Long Island.   Then in 2002 Micky and Davy toured the UK so I saw six out of their seven shows.  2011 brought them here again so I saw them in Plymouth and Cardiff.  Mike came to Manchester in 2012 so I saw his show at a University in Manchester.   Micky performed in Hairspray in my hometown so I went to see him in that.    Then in 2015 I went to London to see Micky and Peter at the Apollo in London.   My latest Monkee experience was seeing Micky at the International Beatle Festival in Liverpool at the end of August this year.   I have gone from a young teenage fan desperately disappointed at missing seeing my idols in person to a very happy old fan who has seen them far more times than I ever could had imagined I would. Listening to a Monkee CD is wonderful but hearing them live is just mind blowing.
What were some of your best concert moments and why?
At the end of one of the concerts during the tour in 2002 I gave Micky a bunch of  tulips.  He took them off me, touched my hand and said thank you.  I was hoping Micky would sing "Sometime In The Morning" at the Cavern in Liverpool, he did so that was a touching moment as I love the song so much. I have had other great Monkee moments too for example seeing Micky in the hotel and having him beckoning me across to talk to him. When the fans were asked to leave the Borderline club Peter came too, he stood outside talking to us. One that amazed me was that Davy asked me if I would like a kiss.
What is some of your favourite Monkees memorabilia?
I have never really thought about that before but I would say it is the "The Monkees Monthly", I have the whole set of 32 that I bought way back in 1967 and 1968.  They are a bit wore now as I have flicked though them lots over the years.    I also have a much-treasured photo of my three friends and me with Davy that has pride of place on my desk.
Now that you've met the guys a few times, what experiences would you like to share with other Monkees fans?
Boy, was I fortunate enough to meet The Monkees!  Peter did two shows in London and attended a memorabilia show too.  So I met him after the show at the Borderline Club when he was signing memorabilia for the fans.  The Borderline club is a night club and was due to open for the general public so Peter came outside and spent some time with us there, he also signed things for fans at the second show I went to and he was at the Memorabilia fair all day so I saw a lot of him during that day.  I went to see the Monkees at the Westbury Music Fair on Long Island with three friends.  Sue used to run the Band 6 fan club and had connections with someone who worked for Davy.  This kind lady booked us into the same hotel that the guys were staying in so we sat in reception hoping that we might catch sight of Micky, Davy or Peter.  We were luckier than that because Davy came out of the dining room and stopped to talk to us, he also gave us back stage passes.  I felt like the luckiest woman in the world! I was disappointed that only Peter was at the Meet and Greet but I still felt grateful to have the opportunity to meet him again.   Back at the hotel my friend noticed Micky sitting at the bar with his wife to be Donna so she insisted I went across to give him the birthday card we had brought for him.   I am very shy and found doing this nearly impossible.  I realized at this point that Micky after all was a man and a stranger so how could I just walk up to a strange man in a bar and talk to him especially as he was sat with his beautiful lady having a quiet drink.   I did hover around and the wonder man that Micky is beckoned me over. Boy was I nervous and was I lucky, we had a little chat and he signed some photos for me.  Later on Micky came over to talk to all four of us, I was so thrilled with it all that I forgot to ask Micky if he would have his photo taken with me.
As Micky was leaving the bar in walked Davy, he came over to talk to us and he was the one who suggested that someone took a photos of us all with him.  Davy was so lovely.   The next morning we bumped into Davy again so he stopped for a chat, he did not talk about the Monkees but his horses that he had just moved to Florida.   We saw Peter too but he just waved.    Davy signed a CD cover for me outside the arena in Manchester but both Davy and Micky were behind the fence and there was loads of fans demanding their attention so I did not have the opportunity to speak to either of them.
What other  TV shows did you watch as a child?
Before The Monkees I watched shows with animals in them like Circus Boy and Lassie.  I also watched shows that my mum watched like Coronation Street, which Davy of course  was in although I do not remember seeing him.
What are some of your favourite Monkee songs and why?
My favourite song is "Sometime in the Morning".  Micky has such a fantastic voice, I just love the way he sounds, and he always sings this song so beautifully. It just touches something in me.  I also love "Never Enough", I love the beat of this one and it has meaning for both of us.  Micky not being able to give enough and we as fans not being able to get enough of the Monkees.   "That Was Then and This Is Now", I love this one partly because I just loved the video I saw when Micky was singing it.  He just looked gorgeous.   "Early Morning Blues and Greens" and "As We Go Along" are beautiful gentle songs.  Micky sung a great version of the Beatles song "Darlin'" at the Cavern in Liverpool in August 2016, which was very moving and fitting.  As many fans know, Micky was there when this particular song was being recorded by the Beatles back in 1967.
Anything else you would like to add?
Being a Monkee fan as brought a lot of lovely people into my life some stayed for a short time whilst others have stayed so long that I have built good strong friendships them. I have visited fans in various parts of the UK and once went to Berlin to stay with a fan I met on the 2002 tour.   I have also had many pen-pals/e-mail friends over the years too.  The Monkees have brought a lot of happiness and the good feel factor into my life and helped me cope when life gets tough.
Yeah, we get that. Don't we Monkees people?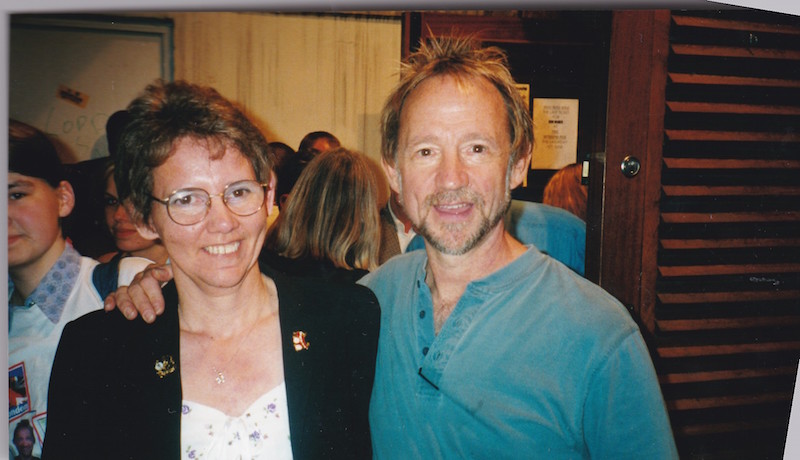 M.A. Cassata
Entertainment Writer/Author