Video Review: Critic's Choice-The Monkees
Once upon a time, VCR's were the NEW state-of-the-art technology. For the first time, the average home viewer was able to record and watch their favorite programs on a video cassette and watch it again whenever they wanted to. Video Review magazine was a periodical that informed consumers of what new VCR's were out on the market and what new video recordings were available for purchase as well. A regular feature of the magazine was a column titled 'Critic's Choice', which highlighted a particular television series worthy of recording for one's archives. The April 1984 issue of Video Review featured an article written by myself and Animation Historian Jerry Beck (currently blogging at http://animationscoop.com/) on what turned out to be one of the first major articles on the Monkees TV series that offered a more serious look at the television series and the accomplishments of the Monkees and the incredible talent that worked behind the scenes. Co-Monkees blogger Eric Lefcowitz publicly acknowledged that the article Jerry and I co-wrote was one of the inspirations for Eric to write his Monkees biographies. The article listed for the first time a comprehensive Episode Guide in chronological order of every Monkees episode, along with a rating system Jerry and I put together of what we felt were the best episodes at the time. (In retrospect, I would re-rate some of the episodes, 'Monkee Mayor' would definitely get a higher rating from me now.) The article was written and published two years before the huge 20th Anniversary Monkees revival of 1986.
So, enjoy an 80's blast from the past!
Many thanks to my friend, Jerry Beck, http://animationscoop.com/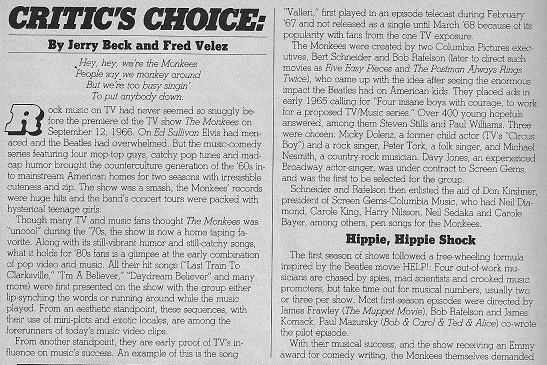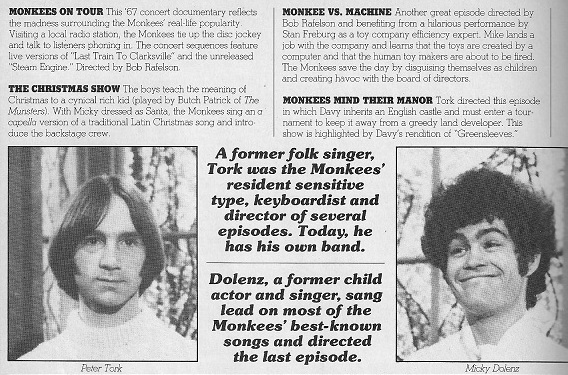 Fred Velez, 2013