The Monkees to Reunite for Anniversary Gigs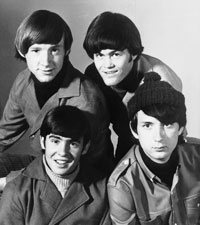 The Monkees will reform for a tour celebrating the group's 45th anniversary.
Three members of the original made-for-TV band — Davy Jones, Peter Tork and Mikey Dolenz — are set to play their first UK gig in 12 years. The other founder member, Michael Nesmith, continues to keep his distance from the group.
The trio commence their UK dates at Liverpool Echo Arena on May 12, the Daily Telegraph reports.
Despite starting out as a manufactured group with their own series, the foursome put out some of the '60s best-loved hits — 'I'm a Believer' and 'Last Train to Clarksville' among them.
At first relying on songwriting nous from the likes of Neil Diamond, the Monkees eventually gained more independence and aligned themselves with the decade's growing counterculture. They were respected by the Beatles and put out their own psychedelic movie, 'Head,' in 1968.
The group dissolved in 1971 after Tork and Nesmith left the band, but their name lived on as the original shows were syndicated around the world. Since then, the Monkees have reconvened sporadically, though Nesmith last played with them in 1997.