The Monkees play for the true believers at Lakewood Civic Auditorium(review)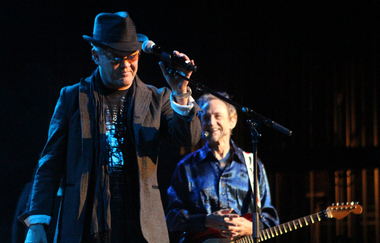 They came from as far away as Detroit, Pennsylvania and Indiana.
They came in cars painted with giant "I LOVE YOU MICKY!" and "We're going to see the MONKEES!" signs.
They came wearing Michael Nesmith stocking hats and t-shirts from Monkees tours past.
One of them, Greg Holland, drove in from Clinton to see his childhood idols.
"When I was in the sixth grade, I used to play my drums to '(I'm Not Your) Steppin' Stone' in the basement," Holland said, remembering wailing away in his parents' house in Canal Fulton.
They came to hear those songs they grew up with.
By the time Micky Dolenz pulled Andrea Dobbins of Coshocton out of the front row and up onto the stage Saturday night at the sold-out Lakewood Civic Auditorium to sing "Daydream Believer," there was no doubt that everyone gotten what they came for.
Dobbins, of course, got more than that. But despite her unexpected turn at the mike, she said that she wasn't scared. Not one bit.
"Oh, I'm a teacher. I'm up in front of little ones everyday, so this was nothing!" she beamed, wearing her prized, hand-painted, denim Monkees jacket — a jacket signed, so far, by three of the four band members. She's only missing Nesmith.
The Monkees, however, were not missing Nesmith. Joining the band on tour full-time for the first time since the late '60s, Nesmith's return helped to offset the late Davy Jones' absence.
They played all the hits during the two-hour set. From the opening "Last Train to Clarksville" to the encore-closing "Pleasant Valley Sunday," Nesmith, Dolenz and Peter Tork took turns at the mike working through their signature material. A backing band seven members deep helped cover up any mistakes the aging but able pop stars may have made.
It really doesn't matter if Dolenz was panting his way through between-song banter, if Tork's playing wasn't especially crisp or if Nesmith was having issues with his famous blonde Gretsch. A Monkees show these days is about nostalgia, and the evening delivered it in droves — right down to the footage of old Monkees shows that ran continuously on a giant screen behind the band before and during the show.
In the end, no one is going to remember a little sloppy playing or off-key singing. But like Holland hasn't forgotten pounding out the beat to '(I'm Not Your) Steppin' Stone' as a kid, Dobbins is unlikely to ever forget the night she sang onstage with The Monkees.
And that's enough to make a believer out of just about anybody.
via The Monkees play for the true believers at Lakewood Civic Auditorium (review) | cleveland.com.