The Monkees "Goodtimes" Engages "I Love Micky Dolenz" Fan Site
The Monkees "Goodtimes" Engages "I Love Micky Dolenz" Fan Site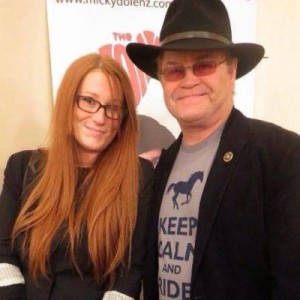 by M.A. Cassata
It's a great time to be a Monkees fan!  50 years young, The Monkees' new album "Good Times" (their first collaborative album in 20 years) has topped the Amazon chart and now the group has a bona-fide #1 record on their hands. And that's against new releases from the likes of Blake Shelton, Eric Clapton, the Hamilton-cast album and Beyoncé. It's perhaps even more intriguing that the band's lead singer Micky Dolenz has the biggest fan base of them all.
One sidebar to their renewed success is a particular Dolenz/Monkee-fan site, "
I Love Micky Dolenz
", which was created in 2011 and this week scored a new record of over 6,000 likes.  Creator Jacqueline Boyd says the fandom has only gotten bigger and bigger every year. "Micky Dolenz fans are an eclectic bunch. Because Micky was considered the 'goofy' Monkee, his fans tend to have an exceptional sense of humor and simple ability to talk endlessly about their hero without the dramatic pitfalls of infighting that some of the other fandoms experience."
Jacqueline operates the site and fan pages from Toronto, Canada, where growing up she discovered The Monkees and instantly gravitated towards the drummer. "I went from a lover of the TV show and band during my teen years in the late 90's to the full blown Micky Dolenz fan girl I am now," she jokes. "I've travelled all across the east coast and seen close to 20 Monkees shows, plus countless solo Micky Dolenz concerts, which I have to admit I always prefer. Micky has a kind of stage presence that steals the spotlight and frankly, I've always considered him to be the most talented. Don't tell all the other Monkees fans I said that," she laughs.
Currently Dolenz is on tour with The Monkees and promoting their new album. "The truth is," Jacqueline says, "Micky has sustained a 50+ year career doing the things he loves – writing, directing, performing and creating – and that is what we celebrate at
I LoveMIckyDolenz.com.
He's not just The Monkees. He's so much more."
Boyd even went as far to get Micky to autograph her shoulder and immediately got it permanently tattooed on. "When I explained to him what I wanted, he looked at me like I was crazy. But once I took my shirt off and he got out his Sharpie, I could tell he got a kick out of it. He recognizes me now and even thanked me once for my support. Micky has always been so appreciative and grateful for his fans and that is yet another reason we love him."
From multiple solo albums, tours with other 1960s legends Peter Noone, The Grass Roots, The Buckinghams, David Cassidy and many others, Micky Dolenz could now be considered the hardest working man in show business.
as devout fans know already, Micky  owns and operates a fine-furniture design company with his daughter Georgia out of Los Angeles, California and can be found in the Dolenz & Daughters Fine Furniture shop whenever he's not recording or touring (
http://www.dolenzanddaughters.com/
).
Jacqueline is convinced that the love for Micky Dolenz will only grow over time as social media helps bring new generation after new generation into the fandom. "People have always loved The Monkees and I believe they always will. Micky Dolenz fans are the best in the world and I can only hope that his legendary status continues to grow."
Jacqueline advises to keep an open mind and remember, "This isn't your grandma's fan page.  This is a place where Micky's fans can express ALL their thoughts and feelings and the truth is, we get a little wild sometimes!  Micky brings out the passion inside of us and at the end of the day, I hope everyone who comes to the page learns something new and gets a good laugh out of it.  We have a lot of fun."