The Monkees' Davy Jones Recalls Beatles Friendship and Mike Nesmith's Disloyalty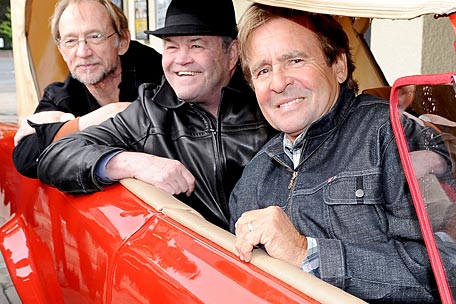 Shirlaine Forrest, Getty Images
When he appeared on 'The Ed Sullivan Show' with the Beatles in 1964, Davy Jones had no idea he was staring at his future.
On the show, he performed a song from 'Oliver!' the Broadway show he was acting in at the time. But two years later, he'd be cast in 'The Monkees,' a TV show about a band similar to the Beatles and inspired by the Fab Four movie 'A Hard Day's Night.'
Despite its origins as a pretend band, the Monkees became a real one after insisting they play their own instruments and write their own songs. Meanwhile, tunes like 'Daydream Believer,' 'Last Train to Clarksville' and 'I'm a Believer' were smash hits, contributing to Monkeemania.
While the show only lasted two years, the Monkees — Jones, Micky Dolenz, Peter Tork and Mike Nesmith — would occasionally reunite. Currently, they are celebrating their 45th year with a tour that doesn't include Nesmith, who opted not to join the band.
Jones recently spoke to Spinner about the reunion and the band's storied past.
In the past, you said, "Never, ever, ever again" to a reunion. It's almost like athletes who say they're going to retire but can't keep away.
I said I wouldn't go out without Mike Nesmith. And then I looked at a picture of Mike Nesmith, and he looks like a German banker. And I thought, "There's no way that guy's gonna stand on a stage and be Mike Nesmith of the Monkees." And then a management company came to me and said, "We'd like to take the Monkees out. What do you think?" And I said, "I don't think so — my schedule's busy." This was last year.
Then, they said, "Can't you please?" I said, "I've got [solo] dates." Then I said, "If you come up with something and Micky and Peter say yes, I'll consider it." Well, Micky was over in England doing 'Hairspray' and I went to see him after he'd done press for the show, and we got along real good. Then we talked and laughed and discussed stuff we'd done.
via The Monkees' Davy Jones Recalls Beatles Friendship and Mike Nesmith's Disloyalty – Spinner Canada.