The Monkees & Bobby Hart at Chiller Con 2016
By Fred Velez
The annual Chiller Theater Convention in Parsippany, NJ on April 22, 23 and 24 featured several Rock & Roll star guests along with many stars from Horror, Sci-Fi, television and film. Among the music guests were Weird Al Yankovich, Meat Loaf and Alice Cooper. Also on board were Micky Dolenz and Peter Tork of The Monkees who were joined by song writer and performer Bobby Hart who along with his late partner Tommy Boyce wrote some of the Monkees greatest hits like 'Last Train To Clarksville', '(I'm Not Your) Steppin' Stone', 'Valleri' and others. Micky, Peter and Bobby greeted fans and signed memorabilia and took photos with the fans.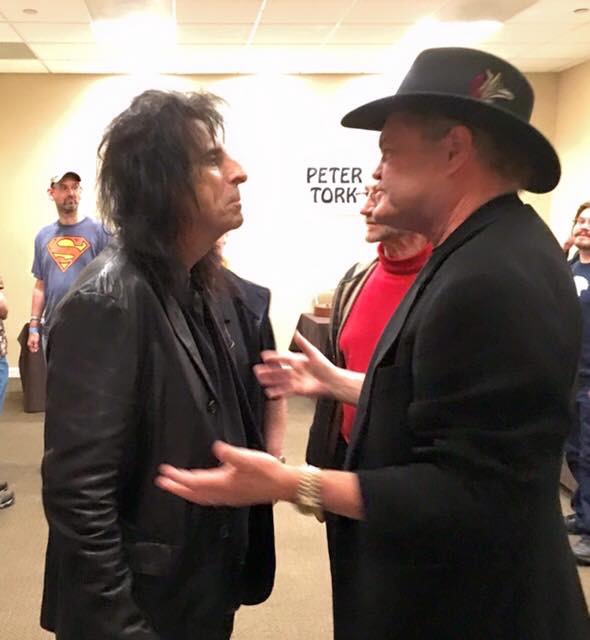 Micky Dolenz and Peter Tork with Alice Cooper
The Monkeemobile was also in the parking lot alongside the Bat-Cycle from the 1960's Batman TV series with fans having their photos taken inside the famous vehicles.
On Saturday night convention goers were treated to a free mini-concert by Micky, Peter and Bobby which focused on the songs of Boyce & Hart. Among the songs performed were 'Clarksville', 'Words' and 'Steppin' Stone', which Micky energetically took the lead vocals on. After 'Steppin' Stone' Micky turned over the stage to Peter Tork and Bobby Hart in a humorous performance of 'Gonna Buy Me A Dog' with Peter and Bobby recreating the ad libs from the original recording. After the song Bobby left the stage to Peter who ended the Monkees mini concert portion of the show with a wonderful performance of the late David Bowie's 'Diamond Dogs' to lead off a tribute to Bowie that was continued by the Chiller Convention House Band after Peter left the stage to great applause by the cheering crowd who appreciated the brief preview of the Monkees upcoming 50th anniversary tour.

Fred Velez & Linda Walsh in Monkeemobile
It was a fun weekend and it was great to hang out with fans in enjoying this sneak peek of this years Monkees tour.
Fred Velez, 2016.