The Monkees band together for reunion tour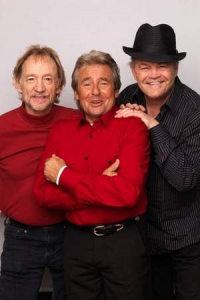 The back-story of The Monkees latest attempt at a reunion reads more like a soap opera than a milestone moment in popular music.
A decade ago, the last time the pre-fab boy band attempted a tour, it had an ugly ending when Peter Tork quit near the end of the run and accused his two stage mates, Davy Jones and Micky Dolenz, of booze-fueled abusive behavior toward him.
Just two years ago, as Tork underwent career-threatening cancer surgery and treatment, Jones told the National Enquirer he couldn't imagine ever sharing a stage again with Dolenz and then slammed each of his former partners.
So it was something of a minor stunner in March when The Monkees announced a spring and summer world tour to celebrate the group's 45th anniversary.
Tork, 69, has since accepted responsibility for the problems that derailed the 2001 tour by admitting he, Jones, 65, and Dolenz, 66, were getting along just fine until he had a "meltdown."
"I ticked the other guys off good and proper and it was a serious mistake on my part," Tork admitted to Rolling Stone in March when the latest tour was announced. "I was not in charge of myself to the best of my ability — the way I hope I have become since. I really just behaved inappropriately, honestly. I apologized to them."
As they've done during past reunion tours, The Monkees, who swing into Borgata for a one-night stand on Saturday, will cover all of the hits they recorded during their run on the pop charts from 1966 until 1970, when the band split up.
With former Monkee Mike Nesmith still sitting out any reunions with his former partners, Tork, Jones and Dolenz will perform songs such as "Last Train to Clarksville," "I'm A Believer," "(I'm Not Your) Steppin' Stone," "Pleasant Valley Sunday" and "Day Dream Believer."
And they'll do it in front of a giant HD screen that will occasionally create a set that looks like the apartment from the band's 1966-1968 television series, which was the whole reason the band was formed in the first place.
via The Monkees band together for reunion tour | Courier-Post | courierpostonline.com.