The Monkees 45th Anniversary Tour Plays Florida Theatre, 6/6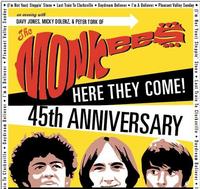 As part of their 45th Anniversary Tour, The Monkees will perform at the Florida Theatre on June 6 at 8:00 pm. This one-night-only evening of nostalgia and rock 'n roll is on sale now, so get your tickets before the best seats are all gone!
Here they come…again…hey, hey, it's The Monkees! 45 years after their groundbreaking show and hit singles first took televisions and record players by storm, original Monkees members Davy Jones, Micky Dolenz and Peter Tork are proud to announce a new tour to dazzle five decades' worth of fans. An Evening with The Monkees – The 45th Anniversary Tour launches on June 4th at Clearwater, Florida's Ruth Eckerd Hall and rolls through 27 cities before concluding July 15th in Los Angeles. These shows mark the first live performances by the band in a full decade, and are sure to draw yet another generation of fans to their one-of-a-kind mix of music and comedy.
On The Monkees 45th Anniversary Tour, audiences will get a full multimedia experience celebrating nearly a half-century of the band's legacy. Jones, Dolenz and Tork will appear live on stage to perform all of their mega-hits including "I'm a Believer,""Last Train to Clarksville," "Daydream Believer," "Pleasant Valley Sunday," "(I'm Not Your) Steppin' Stone," "Valleri" and, for the first time ever onstage, songs from their classic albums and rarely heard selections from their cult classic movie, Head. In addition, songs and videos will be broadcast throughout the venue to provide a soundtrack before and after the main show, featuring Monkees rarities as well as covers by the legions of past and present artists they've influenced over their long career.
Formed in Los Angeles in 1966, The Monkees debuted on television screens with their eponymous NBC series and #1 hit single "Last Train to Clarksville." The show was a smash success over its two-season run, winning two Emmy Awards and drawing even more viewers than Gilligan's Island in the 1967 Monday night time slot. While becoming pop culture icons, the band's musical accomplishments were just as impressive, as The Monkees are among the top-selling artists of all time. They scored a dozen Billboard Top 40 hits – outselling both The Beatles and The Rolling Stones in 1967 – as well as Top 10 hits in more than 25 countries. The Monkees are the only artists ever to have four #1 albums in the same year, and they also enjoyed the top-grossing tours of both 1967 and 1986, when they performed 145 dates in North America alone. MTV and Nickelodeon's re-broadcasts of original episodes of The Monkees ignited a whole new era of "Monkeemania" in the 1980s, as younger generations discovered the group for the first time. Throughout the 1990s and 2000s, the band's original members have reformed for albums of new material as well as anniversary tours and TV specials. The Monkees tour in 2011 will continue their epic legacy into yet another decade.
via The Monkees 45th Anniversary Tour Plays Florida Theatre, 6/6.