Rockers On Broadway Honors Micky Dolenz November 17, Special Guest: Peter Tork!!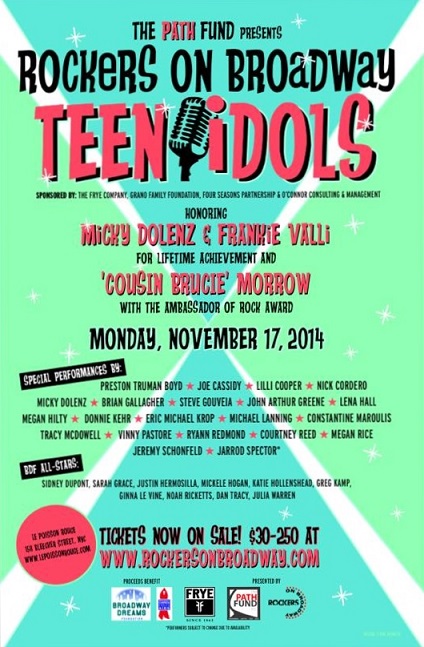 Rockers On Broadway will be honoring Micky Dolenz and Frankie Valli at a special benefit on Monday, Nov 17, 2014 at Le Poisson Rouge 158 Bleecker Street in New York City.
Honoring two of America's teen icons Micky Dolenz and Frankie Valli with Lifetime Achievement Awards and legendary DJ 'Cousin' Brucie Morrow with the Ambassador of Rock Award. Teen Idols, have always been a special kind of rock star! When their songs came on the radio our hearts skipped a beat. We tacked their photos to our bedroom walls faithfully watched their TV shows and bought their records –and we might have even written some of them a love note or two. . We all had one…who's yours? Special Performances by: Micky Dolenz, The Monkees Lena Hall, 2014 TONY Award Winner – Hedwig and The Angry Inch Nick Cordero, TONY Nominee – Bullets Over Broadway Constantine Marloulis, TONY Nominee – Rock Of Ages Donnie Kehr, Jersey Boys (Broadway & Film) Vinny Pastore, Sopranos, Bullets Over Broadway …And many more of your favorite Broadway and Rock standouts.
Rockers On Broadway are a community of artists, writers, musicians, designers, crew, producers, directors and audience members committed to helping people in need and fostering up-and-coming talent through our spectacular show we call ROCKERS ON BROADWAY.
Breaking News:
A CORNER EXCLUSIVE — We heard the rumors, but yesterday Rockers On Broadway's director Donnie Kehr called and confirmed to us exclusively to that Monkee-Peter Tork will indeed be a special guest for their upcoming November 17 event here in new York, joining mate-Micky Dolenz on stage for several songs, and the presentation to Dolenz of his Lifetime Achievement Award. So, basically we're having a mini-Monkee reunion here in Manhattan. The event will take place at Le Poisson Rouge in the Village.
Click the link for further information and to purchase tickets.