Review: Rockers On Broadway Honor Micky Dolenz
by Fred Velez
The Path Fund, which raises money for charities that benefit arts and entertainment organizations, held their annual Rockers On Broadway event on November 17 at Le Poisson Rouge at Bleecker Street in Greenwich Village in New York City. The theme for this years event was Teen Idols, with several of the young talents on Broadway paying homage to the Teen Idols of the past. This years' event was particularly special as Micky Dolenz, Frankie Valli and 'Cousin Brucie' Morrow were all to receive Lifetime Achievement awards for their contributions to the Arts and Broadway community.

Courtney Reed. Photo by Fred Velez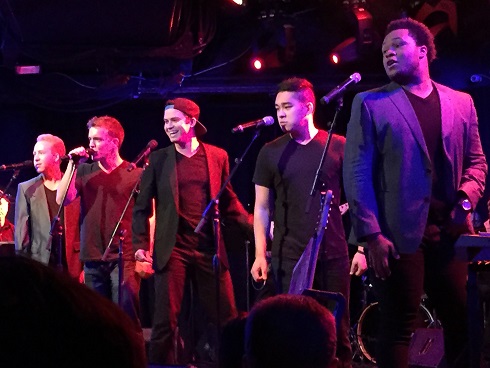 Broadway Boy Band Tribute. Photo by Fred Velez

Broadway Girl Group. Photo by Fred Velez
Many of the young stars from the current crop of Broadway shows gave amazing performances of Teen Idol favorites like 'Breaking Up Is Hard To Do', 'The Wanderer', 'A Teenager In Love', 'I Think I Love You', and gave homage to the Boy Bands, Girl Groups, Michael Jackson, The Four Seasons and The Beatles with melodies of their hits. There were many standout performances especially Nick Cordero singing a heart-stopping version of Prince's 'Purple Rain' and Jarrod Spector doing a spot-on vocal on Frankie Valli's Four Seasons hits.
Frankie Valli was unable to attend the ceremony but he sent a video greeting gracefully thanking everyone for the award.

Frankie Valli Video Message. Photo by Fred Velez
Cousin Brucie took the stage to accept his Lifetime Achievement award as Ambassador of Rock.

Cousin Brucie Morrow. Photo by Fred Velez
During a brief intermission an auction took place to raise funds. Among the items to be auction were an autographed Led Zepplin album by the surviving members, the sheet music for the Eagles 'Hotel California', sheet music from Whitney Houston, a signed guitar by Bruce Springsteen, and a Monkees gift basket from Micky Dolenz. To really entice the crowd, Micky's wife Donna gave permission that a date with Micky would be included as part of the prize, to which Micky raised an eyebrow in surprise saying "My wife is okay with that?", and she laughed as shook her head yes. All the items went for big bucks with Micky's basket and the date going for over $1,000!

Micky Dolenz Monkees Gift Basket Auction. Photo by Fred Velez
After the auction the evening continued with more sterling performances by the young Broadway stars. Then came the part of the evening everyone was waiting for as Cousin Brucie invited Micky Dolenz to the stage to accept his Lifetime Achievement award and the whole room rose to their feet to give Micky a well deserved standing ovation which moved him. Before Micky began his performance he invited on stage "My comrade and brother, Peter Tork!". Peter come on stage to a rousing ovation and Micky and Peter joked that the crowd was witnessing the latest incarnation of the 'Twokees'!

Micky Dolenz and Peter Tork. Photo by Fred Velez
They began their set with "the song that started it all!", 'Last Train To Clarksville', with Peter playing a sizzling solo on his guitar. After the number Peter moved to the keyboards as Micky introduced the next song as being written by "the late, great John Stewart, which was sung by another late, great, our friend and brother Davy Jones", to which the crowd gave another ovation as Peter played the piano intro of 'Daydream Believer'. During the performance of the song Micky and Peter faced each other with a warmth and affection for each other that could be felt throughout the room. They led the crowd in a singalong of the chorus and Micky point skyward to give Davy an emotional salute.

Daydream Believer. Photo by Fred Velez

Micky and Peter Salute Davy Jones. Photo by Fred Velez
The evening came to its' conclusion as Micky addressed the crowd with his familiar song intro "I sang this song long before Shrek!" and Micky, Peter and the house band launched into rollicking version of 'I'm A Believer' which ended the evening on a huge high note as the crowd gave Micky, Peter and the band an enthusiastic standing ovation.

Peter Tork and Micky Dolenz. Photo by Fred Velez
During the evening I was able to say hello to my 'co-worker' Courtney Reed who plays Jasmine in the Broadway production of 'Aladdin', as well as May Pang who also attended the event. Little Steven Van Zandt from the Bruce Springsteen band sat at the table next to mine. I got to say hello to Micky's wife Donna and gave her copies of my Christmas cd to give to Micky and Peter. I got to briefly say hello to Micky and told him I'd be seeing him at his December 12th Christmas show. Peter said hello to me before heading at out.
Convention promoter Charles Rosenay along with my friend Bill Last attended the event and together we walked to the nearby former location of Davy Jones store 'Zilch' and took pictures outside the store front which is now a UPS store that also sells post cards. I visited the store earlier when it was open and the clerk behind the counter knew the significance of the space as there were some Monkees albums on display. I suggested that they should sell some Monkees postcards and he said that was a good idea.

In front of Zilch. Photo by Charles Rosenay
Standing in front of Zilch was a perfect way to end the evening which saw Micky being honored and another memorable performance by Micky and Peter. Next: Micky's Christmas Show!
Fred Velez, 2014
Fred Velez is the author of the book 'A Little Bit Me, A Little Bit You: The Monkees From A Fan's Perspective' and the CD 'A Little Bit Christmas'.