Review: Comedy Is Hard
by Fred Velez
Comedy writer Mike Reiss, who has written for the highly acclaimed shows 'The Simpsons' and 'Alf', has written an new play titled 'Comedy Is Hard', which is playing a limited run at the Ivoryton Playhouse in Connecticut from September 24th to October 12, 2014. The play stars Micky Dolenz of The Monkees and Joyce DeWitt from Three's Company.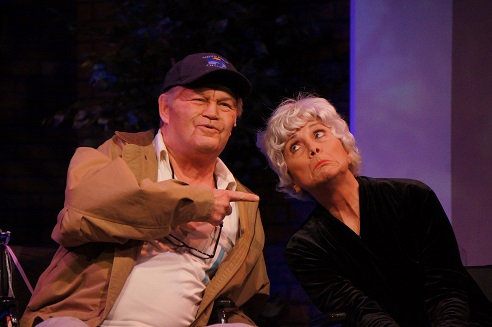 Micky Dolenz and Joyce DeWitt as Lou and Kay
The story is set in a retirement home for actors and focuses on the relationship between a serious dramatic actress Kay (DeWitt) and Lou, an old-style stand-up comic (Dolenz). Though they both come from different areas of show business, they find themselves drawn to each other and develop a warm friendship. Kay is very serious and tends to be crabby and frustrated about growing old while Lou is very light-hearted and can't stop joking, though he deeply regrets the strained relationship with his son Phil (Michael McDermott).
Lou and Kay's relationship goes back and forth between the hilarious and the bittersweet, and Dolenz and DeWitt endue their characters with a sweetness that endears them to the audience, especially in a second act scene where their wheelchair bound characters suddenly get up and dance in a charming homage to Fred Astair and Ginger Rogers. There are many laughs and heart-touching moments through the course of the story and Micky and Joyce win over the audience with their performance of these sweet characters.

Photo by Jodi Ritzen
Other characters involve Kay's seemly oblivious aide Valentina (Dorian Mendez) a Homeless Man (Michael Hotkowski) whom Kay and Lou inspire to pick up his life. Dan Coyle gives a stand-out performance as Mr. Holroyd who most of the time appears to as an unresponsive, vegetative patient who suddenly breaks out in moments of bright lucidness, especially during a particularly hilarious performance of Waiting for Godot.

Dan Coyle, Micky Dolenz and Joyce DeWitt. Photo by Jodi Ritzen
'Comedy Is Hard' is a wonderful, delightful play about friendship. Micky Dolenz shines in an hysterically funny role and Joyce DeWitt matches him beautifully with humor and grace. The show's run is very limited and I highly recommend you catch it while you can, you'll have a wonderful time.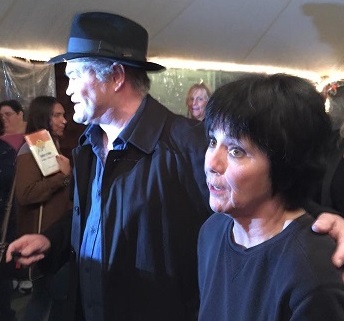 Micky Dolenz and Joyce DeWitt at after-show meet & greet.
Photo by Fred Velez
http://www.ivorytonplayhouse.org/our-season/comedy-is-hard
Fred Velez, 2014
Author of 'A Little Bit Me, A Little Bit You: The Monkees From A Fan's Perspective'.