Review: Bobby Hart – Psychedelic Bubble Gum
by Fred Velez
Bobby Hart, half of the legendary songwriting team of Boyce & Hart, has co-written with his writing partner Glenn Ballantyne, his autobiography 'Psychedelic Bubble Gum'.

Bobby Hart at Steinway Hall, NYC.
Bobby brings the reader on a tour of his life and career. He recounts his start as a performer and songwriter, his early Brill Building successes with songs like 'Hurt So Bad' for Little Anthony & The Imperials, teaming up with his partner the late Tommy Boyce and writing hits like 'Come A Little Bit Closer' for Jay & The Americans, their early involvement with The Monkees, shaping the sound of the group, then being dropped from the project by Don Kirshner before being reinstated.
Seeing the success the Monkees were having with their songs inspired Tommy & Bobby to branch out as performers and artists on their own with great records like 'Out & About', 'I Wonder What She's Doing Tonight', 'Alice Long' among other songs, as well as writing the Theme for Days Of Our Lives, the title songs for 'Where Angles Go, Trouble Follows', 'Where The Action Is', and their history making involvement in the 'L.U.V.' campaign which championed lowering the voting age to 18.
Throughout the book Bobby talks about his personal life and struggles, and of his own inspirational spiritual journey. Bobby tells his stories with humor and great insight, revealing himself as a very thoughtful, peaceful and humble man.
The book is a quick, fun read, and readers will come away with a growing respect for Bobby Hart and his professional as well as his personal, spiritual success.
Psychedelic Bubble Gum is a highly recommended book for fans of the Monkees, Boyce & Hart, and the early 60's Music Scene while giving the reader a glimpse into the fascinating life of Bobby Hart.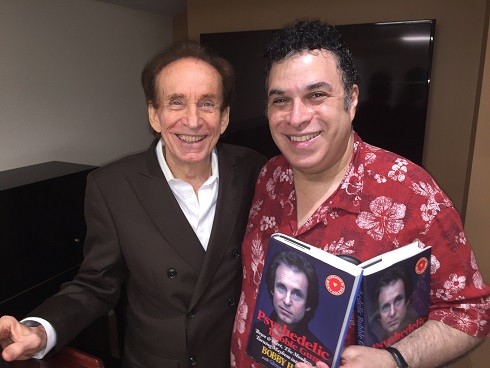 Bobby Hart with Fred Velez
You can order Psychedelic Bubble on the official Boyce & Hart site:
http://www.officialboyceandhart.com
Fred Velez, 2015.