Reunion after 39 years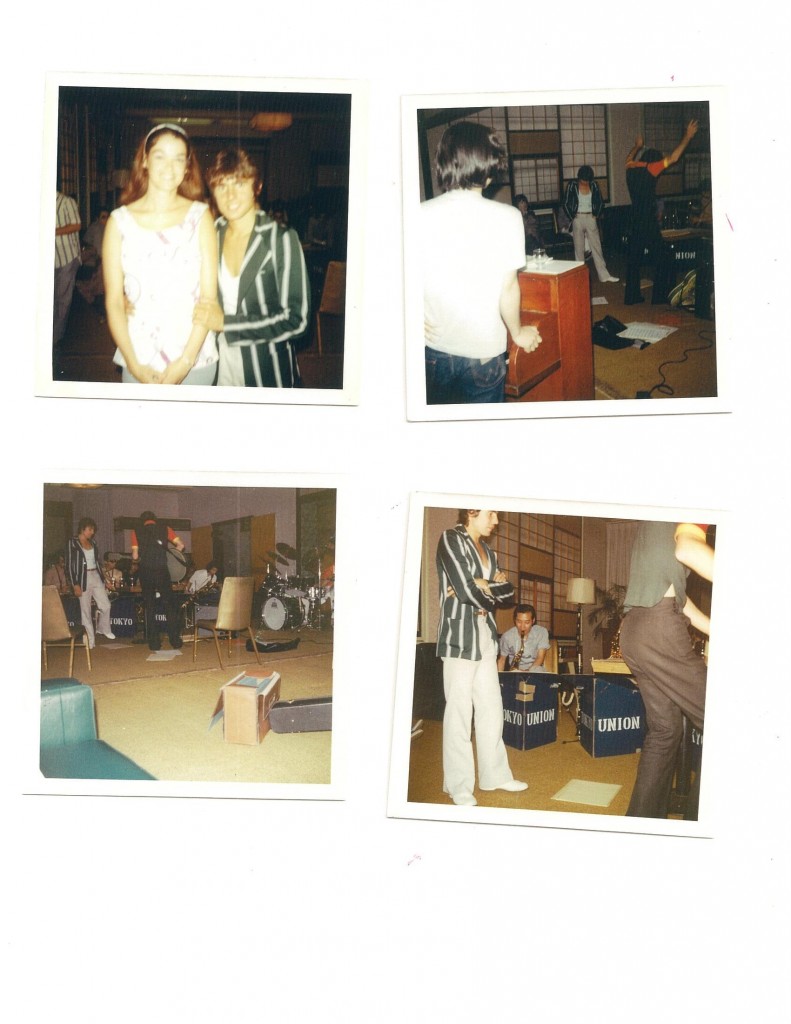 It was late June, 1972, when I arrived in Yokosuka, Japan.  A 20 yr
old newlywed joining her husband. Two days after I arrived, Ensign Ron
Carr left for his ship, off Viet Nam.
July 3rd – Left alone, knowing no one, I heard there was a pool at the
Officer's Club, so I left the base hotel and went to look around. I
was walking down a hallway when I heard music.  I followed it to a
room, I opened the door a crack, peaked in and there was DAVY JONES.
Without thinking I went back to the hotel and grabbed my camera.  When
I return I went into the room and started taking photos.  I don't know
what possesed me, as I don't normally do this.
After a few minutes, a very big body guard came over and asked who I
was.  "I'm with the Stars and Stripes newspaper.  I'm shooting photos
for the article following the concert."  He said ok and walked away.
Then he came back as asked again.. this time my answer was not as
convincing.  He asked me…"Don't photographers normally use 35mm
cameras?"   I was busted.. I had a Kodak Instamatic.
I asked if I could stay.. I'd be quiet, he wouldn't know I as there.
The body guard said I could.
At the end of the rehearsal Davy came over and said HI.. I just about
died.  Then the body guard asked if I wanted a photo.. of course!
Davy and I talked for few minutes then asked if I was the Admiral's
daughter.  I wish I were..but I said "no" and asked "why?"  He said he
was to have dinner with the Admiral.
Just then the Admiral came in the back door with his daughter.  As I
was about to leave, I thanked him.  He asked me to come to stairs at
the side of the stage before the concert.  What a wonderful day!!!
July 4th, 1972 – I went to the stairs and the body guard met me
followed by Davy, and I was escorted to a spot front and center.. it
was on the ground… but… I didn't care.  After the concert I went
back to the stairs to thank him and say goodbye.
Fast forward to July 9, 2011 – The Monkees are in Ridgefield, WA… 20
miles from my home.  My children bought tickets for the concert for my
husband (same one as in 1972) and I.  I was soooo excited.  What I
didn't know is my husband had been trying to work out a Meet and Greet
so I could get another photo.
At 11:00 pm, we were the last ones to get to see him.. AND YES!!  We
got a photo!  I reminded him of the concert in 1972 and had a chance
to chat with him.  It was sooo exciting!
Today – July 11, 2011 – The Columbian newspaper for Vancouver, WA, ran
a story about the whole tale.  It isn't quite accurate, but its close.
Meeting DAVY  was a dream come true and a once in a lifetime event.
Getting to see him and talk to him a second time is amazing!
Something I'll never forget.
My husband is AMAZING!  Thank you Davy for being so sweet and gracious!
From: Jan Carr