Now on clear vinyl – The Monkees "Head" – only 500 made
From: Rhino.com
We were talking with the Master regarding the nature of conceptual reality. Psychologically speaking, the human mind, or brain or whatever, is almost incapable of distinguishing between the real and the vividly imagined experience. Sound and film and music and radio. Even these manipulative experiences are received more or less directly and uninterpreted by the mind. They are cataloged and recorded and either acted upon directly, or stored in the memory, or both. Now this process, unless we pay it tremendous attention, begins to separate us from the reality of the now. Am I being clear?

– Peter Tork from HEAD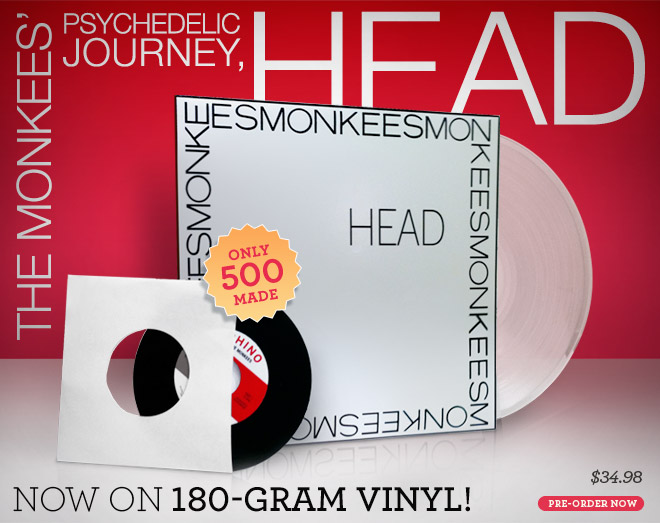 If you're still fuzzy, how about we clear it up for you? Rhino Vinyl is proud to offer HEAD now on clear, 180-gram vinyl! Cut by Chris Bellman at Bernie Grundman Mastering, this Rhino.com exclusive also includes a bonus 7″ of "Circle Sky (Live)" b/w "Can You Dig It (Mono Mix)," and is strictly limited to just 500 copies worldwide. This instant collectible ships in late September, but will sell out quickly, so grab yours now or pay big bucks for it later.
To recap: HEAD on 180-gram clear vinyl, bonus 7″, limited to 500 copies, available only at Rhino.com. Clear enough?
Pre-order yours now.