Nez Live at Town Hall, NYC!
Nez Live At Town Hall, NYC
by Fred Velez
Michael Nesmith returned to New York City on April 16th, 2013 for his first solo concert in NYC since his Lone Star Cafe gig in 1992. This time Nez played the historic Town Hall auditorium with his talented band of musicians comprising of Boh Cooper on Keyboards, Chris Scruggs on Mandolin, Pedal Steel,and 6 string guitar, Paul Leim on Drums, and Joe Chemay on Bass. Nesmith's smile during portions of the show was infectious, he was clearly enjoying himself and was pleased that the audience were enjoying his songs as well.
During 'Grand Ennui', we were again treated to a blistering guitar solo by Chris Scruggs who had the appearance of Buddy Holly channeling Jimi Hendrix the way he elicited feedback from his guitar against his speaker. Keyboardist Boh Cooper also offered some tasty sounds as well during the number. As in other shows on the tour, Nesmith narrated a scenario for each song as if it were a mini-movie, with the song as the soundtrack. Some songs segued into another to complete the mind picture, as was the case with 'Joanne' with 'Silver Moon' and 'Rio' with 'Casablanca Moonlight'. The audience had a great time clapping along in unison with the electronic drums during 'Cruisin'. The three song suite from 'The Prison' was given a special placement of their own, with the crowd giving their full attention to the piece. The encore comprised of a surprise of 'Tonight' from the 'Infinite Rider' album and the 'Elephant Parts' video, which got the audience bomping along, wiggling their 'fingers of blue'. The final song again was 'Thanx For The Ride', featuring a sample of the late Red Rhodes Pedal Steel Guitar solo which ended the evening in a nice Space Cowboy atmosphere. The audience again were quiet during the actual numbers and showed their pleasure loudly at the end of each song. Nesmith is an artist who follows his own particular muse, and he appears very gratified to have his audience come along for the ride as well.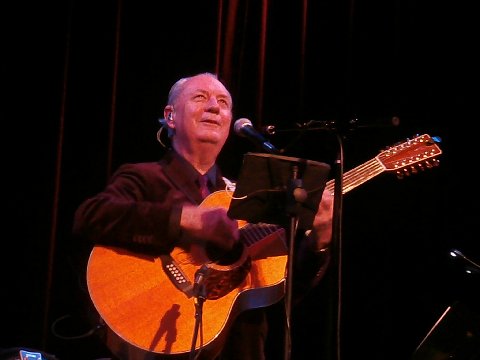 Elvis Costello was in the audience and later went to visit Nez backstage after the show. I was one of the fortunate folks to obtain a bracelet for the after-show meet & greet. Michael was little late after meeting with Elvis and greeted everybody and proceeded to speak with fans and sign items and take pictures. For those attending the meet & greets we were told to bring one Nez item and one Monkee item to be signed.
I brought along my photo taken with all four Monkees in 1989 at the Hollywood Walk of Fame ceremony. I already had the signatures of Micky and Peter on it. Sadly, I never got to get Davy to sign it. Mike gladly added his signature to the photo.

With The Monkees in 1989 (this is a clean copy of the signed photo)
When it was my turn to see Nesmith the first thing I asked him was how was his dog Dale, who he's been writing about on his Facebook page. Mike said Dale was doing good and was looking forward to seeing her when he came home from the tour. I relayed a question from my friend Gary Owen of the Monkees cover band the Blue Meanies about the 1969 multi-tracks with sessions for 'Oklahoma Backroom Dancer' and other songs and whether he was ever going to complete them. Nesmith said most likely not as those were mostly archival material. I asked him about the possibility of another Monkees tour and he said that they hope to do another one soon. I then asked him a question that I asked the last time I saw him at the Lone Star in 1992 about considering adding 'While I Cried' to the set list as that is one of my favorite songs of his. He said with a wink, "I'll keep it in mind". My very lovely and dear friend Linda Walsh who accompanied me to the concert was there too with an item our friend Gary Owen wanted signed: the cover of the Mono version of 'The Birds, The Bees & The Monkees', considered the 'holy grail' of Monkees rarities, already signed by the other three Monkees. All it needed was Nesmith's signature to complete it. Needless to say, Gary was ecstatic when I handed him the signed cover later!

Nez Signs the 'Holy Grail!'
Mike was very kind and friendly during the time he spent talking to me and Linda and the other fans on line, giving us his full attention and patiently answering our questions. He was very accommodating to everyone and seemed genuinely humbled and pleased about how the audience enjoyed his songs.
Michael Nesmith's solo tour wraps up in Washington, DC on April 17th. For those who missed seeing him on this tour, keep your fingers crossed for another Monkees tour hopefully at the end of this year and maybe another solo tour.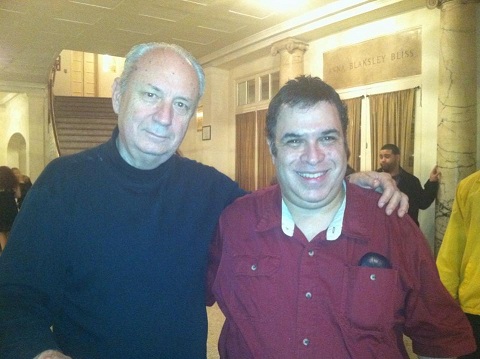 To you Papa Nez, Thanx For The Ride!
Fred Velez, 2013
Town Hall Set List:
Papa Gene's Blues
Propinquity
Tomorrow & Me
Different Drum
Joanne
Silver Moon
Some of Shelley's Blues
Rio
Casablanca Moonlight
Grand Ennui
Cruisin
Rays
The Prison: Life-The Unsuspecting Captive, Marie's Theme, Lamppost
Laugh Kills Lonesome
Encore:
Tonight
Thanx For The Ride