Monkees tell own tale in multi-media performance
SOUTH BEND — The Monkees' concert Tuesday at the Morris Performing Arts Center was as much an exercise in nostalgia as in re-self-definition.
Mostly, though, it was entertaining.
The show had weaknesses, but its strengths far outweighed them as the three reunited Monkees — Micky Dolenz, Davy Jones and Peter Tork; Michael Nesmith declined their invitation to join them — played, sang and danced their way through more than two hours of hits, album cuts and — the musical highlight of the concert — a suite of songs from "Head," the band's 1968 avant-garde film.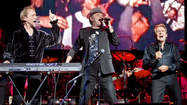 As singers, Dolenz, Jones and Tork each started the night a little shaky, but each of them found his voice.
After almost a decade of working in musical theater, Dolenz emerged as the strongest and most consistent singer of the three.
He has always leaned toward R&B music with his singing, and Dolenz demonstrated that by the end of the concert-opening "I'm a Believer." On such songs as "Saturday's Child," "As I Go Along," "Words" and "She," his voice had grit and dramatic delivery, but throughout the concert, Dolenz had complete control of each song's melody and phrasing.
He also played steady if no-frills drums on about a third of the concert's numbers, doubling with the band's full-time drummer and often singing lead at the same time.
On such songs as "When Love Comes Knockin' (at Your Door)," "Someday Man," "Daddy's Song," "Cuddly Toy" and "Daydream Believer," Jones did employed his charming, mid-range voice to a mid-tempo song with a strong melody to produce a joyous, showman's rendition.
The band's keyboardist doubled the lead vocal with Tork on Nesmith's "Papa Gene's Blues," which made it difficult to hear Tork — who has been treated successfully for tongue cancer — in the mix.
But on "I Don't Think You Know Me," Tork sang with feeling and could be heard, and he sounded relaxed and stronger on "What Am I Doing Hangin' Round?" and his parts on "Words" and "Shades of Gray."
His best moments of the night, however, came on his two compositions from "Head," "Long Title: Do I Have to Do This All Over Again?" and "Can You Dig It," and "Your Auntie Grizelda." On these songs, Tork looked more animated than at any other time, and his voice was at its most assured, vigorous and in command of the melody.
A talented multi-instrumentalist, Tork also played keyboards, guitar and solid rhythm and melodic picking on the banjo for "What Am I Doing Hangin' Round?" and a plaintive French horn solo on "Shades of Gray."
But the music was only one part of Tuesday's show.
Footage from the television series, the television special "Thirty-Three and One-Third Revolutions Per Monkee," "Head" and concerts from the '60s supplemented by photographs of album and singles covers, magazine covers and off-camera on-the-set played above the band on a video screen.
On some songs, such as "Saturday's Child" and "Last Train to Clarksville," the video was the same "romp" used on the television show for the song, while "She" featured a montage of scenes with each Monkee in several romantic situations.
Even The Monkees' most critical television role — in NBC's long-ago eyes —made an appearance: Before The Monkees took the stage, a montage of their commercials for Kellogg's, Kool-Aid and Black Label after shave played on the video screen.
Early in the concert, the three Monkees bantered between songs with the sort of pun-filled and silly but subtly pointed humor that made the television series funny. Later, their song introductions became stories about being in The Monkees or the recording of the upcoming song.
After The Monkees were cast for the television show and records began to be made with session musicians, for instance, Tork said he resented that the four of them weren't allowed to play on those records. Now, he said, he was wrong and that with their 18-hour work days on the television set and singing vocals in the recording studio, they didn't have time to record the instruments, too. After the first season finished filming, The Monkees recorded 1967's "Headquarters" with little assistance from studio musicians.
"We fought for and won the right to make our own records, which is more than we can say about some members of the Rock and Roll Hall of Fame," Tork said, referring to the band's controversial — and unfair — snub by that organization.
Yes, The Monkees have something to say, and they said it better than well Tuesday as a nostalgic but context-based work of multi-media entertainment.
via Monkees tell own tale in multi-media performance – southbendtribune.com.