Monkees' Dolenz Coming to Palace Theatre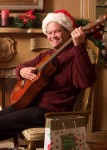 The Monkees lead singer Micky Dolenz will perform a "Micky's Monkees Christmas" at the Marion Palace Theatre on Saturday, December 15, 2012 at 8:00pm.
You know and love him as the singing drummer of The Monkees, one of America's all-time favorite bands. George Michael Dolenz, Jr. (a.k.a. Micky) has fashioned a long-lasting and diversified career in show business.
Though Micky is a busy man through his varied career as an actor, director and producer, he continues to perform the hits that he sang as a lead singer of The Monkees. Make plans now to celebrate the holidays with Micky at the Marion Palace Theatre when he performs timeless Christmas classics, surprises for the kids and The Monkees mega Top 40 hits that made Micky Dolenz a household name.
The son of actor George Dolenz, Micky took to acting as a boy, earning great success with "Circus Boy" (1956). Though he continued to act with the show's end, he focused more on college studies, with his most passionate interest being architecture. He also explored singing, performing in LA-area clubs with bands called Micky & The One-Nighters and Missing Links. Among those who saw Micky in action was Michael Nesmith.
Micky auditioned for "The Monkees" TV series in 1965, and on the strength of his audition won a role, becoming the group's designated crazy one. Assigned as a drummer, Micky worked to learn the instrument well enough to bluff his way through filming, and when the group began touring for real in late 1966, Micky learned drumming to pull off concerts.
It was his superb voice that was his greatest asset with the group. Whether in lead or in harmony with the others, Micky's voice made the group all the stronger; he was particularly effective in harmony with Mike Nesmith.
"We always had a great combination," he said in 1990. And indeed, few singing tandems, then or now, compare as well as the tandem of Micky Dolenz and Michael Nesmith.
The Monkees recording career was brief, but in that time they produced an astounding amount of material.
"It was brutal," says Dolenz. "They needed so much material to service that television show. They were running at least two songs a week. I remember frequently finishing a taping at 7 p.m. and I had to go to RCA at sunset and record until midnight. I would often do two or three lead vocal takes in a night. People often ask if I remember recording 'I'm a Believer' or 'Last Train to Clarksville.' I say, 'No way!' I was recording two or three vocals a night. Every night."
It has been said The Monkees have endured the test of time because of signature songs written by the likes of music icons Carole King, Neil Diamond, Carole Bayer Sager, the writing duo of Tommy Boyce and Bobby Hart, as well as the T.V. show's material and humor that "still stands up."
"Wisely the producers kept the humor from getting topical or satirical so … it works across generations. I like to think of course that it had something to do with the four of us," Dolenz said.
Micky has since toured repeatedly with The Monkees (even returning to the drums for the full foursome's return LP "Justus"), directed television ads and other films, done additional voice-over work, guest-starred in such TV series as "Mike Hammer" (1984). His autobiography aptly sums up his 55 years in showbiz – he is a survivor. In fact, Dolenz's current status is not just survivor but thriver, as evidenced by the release of a new album, "Remember," in September and his current tour with fellow Monkees in honor of Davy Jones, who passed away earlier this year.
Reserved seat tickets for "Micky's Monkees Christmas" are $40, $30, $26 and $22 and may be purchased at the Palace box office, 276 W. Center St. in downtown Marion or by phone at 740/383-2101. Box office hours are 9 a.m.-5 p.m. Monday, Tuesday, Thursday and Friday, closed Wednesday, Saturday and Sunday. Tickets will be available at the door one hour prior to the performance. Information for all 2012-2013 Marion Palace Theatre shows and tickets are also online at www.marionpalace.org. Marion Industrial Center, Inc sponsors this special holiday show.
via Monkees' Dolenz Coming to Palace Theatre – Marion Online.