Micky and Peter tour Canada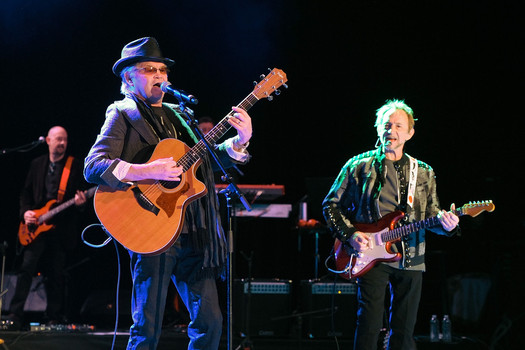 Monkees Micky Dolenz and Peter Tork will hit the road and perform in Canada this April.
Photo by Noel Vasquez/Getty Images
The Monkees' Micky Dolenz and Peter Tork announced Jan. 12 they will do two shows in Canada April 24 and 25 at Casino Rama in Ontario. Pre-sale for the two shows begins next Monday.
Davy Jones and Dolenz performed under the Monkees banner on the group's last Canadian dates also at Casino Rama in 2002. The full group performed in Canada in April, 1967 at the Arena in Winnipeg and the Maple Leaf Gardens in Toronto, which also was the scene of concerts by the Beatles.
Dolenz and Tork say they will be digging back into The Monkees' songbook to perform a show featuring their Canadian hit singles, including "Last Train To Clarksville," "I'm A Believer," "A Little Bit Me, A Little Bit You," "She Hangs Out," "Pleasant Valley Sunday," "That Was Then, This Is Now" and "Daydream Believer." The show will also include deep cuts, acoustic numbers and fan favorites, plus a multimedia show.
Ticket pre-sale for these shows begins at noon Eastern time Jan. 19. General on sale begins January 21 at 12 noon eastern time. Tickets will be available through Ticketmaster Canada. An earlier pre-sale for Players Club members begins at 10 a.m. Eastern time Jan. 18.
Last year, Rhino Records released a deluxe box set of the Monkees first album featuring unreleased outtakes. Also out in 2014 was "The Monkees in Mono," a limited edition five-LP box set of the first five Monkees albums "The Monkees," "More of the Monkees," "Pisces, Aquarius, Capricorn & Jones Ltd.," "The Birds, the Bees and The Monkees" pressed on 180 gram vinyl and mastered from the original mono tapes.
Via http://www.examiner.com/article/monkees-announce-first-canadian-shows-since-2002