Monkee News Updates from Jodi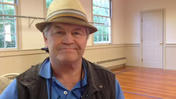 Hey Hey Everybody.
All very cool things are happening here.
Making calls, paying attention, ordering stuff.  You know, a typical day.
So did you see Circe and Christian over the weekend? They were great right?
Well on Dec 7th they are doing it again.  I am playing around with
ideas for some kind of a party where we can all watch one of the
shows.
I think that would be so much fun. Make sure you are subscribed to
Circe Link's website for all upcoming information.
http://www.circelink.com/
If you have not already done so, check out the bus trip to see Micky
Dolenz Christmas show in Bethlehem Pa on December 12.
I have ordered a limited number of Santa Hats to wear to the show that
will be available soon. They are Blue hats that say Have a Micky
Christmas. They are
on their way to me now. We can wear them at his show.  They will only
be $10 bucks and it is first come first served. I only have 100 of
them.
I will keep you posted when they arrive.
We will be having a meet and greet with Micky at the show.  If you
already purchased your ticket but you would like to be on the bus with
us, you can email me and purchase that
separate. You can also order the hats and buy anything we bring on the
bus with us. I think I shall call it our Monkee Mobile. If you do not
need the bus but want to purchase a ticket to the show, I have them a
bit cheaper since I
purchase in bulk. These do not include dinner.  The good thing about
the bus is you can drink your heads off, no tolls, no aggravation,
just fun fun fun.
I will have Original Art by Emily Dolenz, Fred Velez has a new CD for
Christmas and his new book available for purchase. I will have some
Circe Link tees, Jonathan Nesmith CD's,
all great stocking stuffers.
Bring your instruments so we can jam on the way.
One pick up will be at the Meadowlands and the other will be in Pa and
still working on that.  After all tickets are purchased and I know who
needs to come from PA will help to
decide.  I do need to have orders in soon. November 1 will be the
first order of tickets so please get me your money or the rest of your
deposit.  If you need to get some extra time
and you have not already messaged me, please do.
Micky will also be at an autograph show on Black Friday in Oaks Pa. I
will be there with Billy J. Kramer.  Tickets to get in are only 10
dollars.  Yes 10 bucks.
The same night Peter is playing at the Man Cave in NJ.  Gonna be at
that too! Oh the traffic is already making me nervous.
Nez has a new book out, did you get your copy?  I will be posting a
book review page so keep checking for that.
If you are looking to purchase anything from Dolenz & Daughters in
time for the holidays, you must order by Halloween this Friday.  Oh
Speaking of Halloween, Buddy Blanc and his incredible
Van Halen Tribute Band Romeo Delight will be performing at Sweeny's in
the North East after the kids are done Trick or Treating.
Did you see what Coco has on her Etsy Site? OMG Great gift ideas.  You
do not need to be a Monkees fan to love what she creates.
Make sure on facebook you make sure you click on to receive
notifications from me. Click under Friends on the main page and make
sure that you have a check next to notifications.
Please share all of this with your friends and family.  If you want
your family to purchase the Bus trip for you as a gift, tell them to
contact me.
My direct email is jodilyn1021@msn.com
Want to have the Monkeephiles come to your town? They are looking to
visit as many of you as possible.  Do you know a club or bar that may
be a great fit? Want to book them for a holiday party? Please contact
me directly
as I am looking to book them.
Our great friend Fred Velez is doing a Go Fund Me campaign to help
with his new Holiday Cd. If you would like to help this wonderful
gentleman and also get your copy, please visit the Go Fund Me
Page..http://www.gofundme.com/fthk94
So excited to see all of you at all of the events that are going on.
Jodi
Sites to visit and support for our Monkee Family
To order tickets for Micky's Christmas show order
here…http://www.monkeesconvention2014.com/apps/webstore/
Coco Dolenz on Etsy…https://www.etsy.com/people/cdolenz
Emily Dolenz on Etsy…https://www.etsy.com/search?q=emily%20dolenz
Dolenz & Daughters Fine Furniture…http://www.dolenzanddaughters.com/
To order tickets for Peter's Show here is the
link…http://www.mancavenj.com/concerts-events-2/
Subscribe for dates to see Buddy Blanc in Romeo Delight
here…http://vanhalentributeband.com/
Want to order Nez's new book? Go to
http://www.videoranch3d.com/mm5/merchant.mvc?Screen=CTGY&Category_Code=010
To subscribe for Circe and Christian's shows and news click
on…http://www.circelink.com/
To order or listen to Jonathan Nesmith's different projects, check him
out…http://thediamonddoorway.com/
To purchase Jessica Nesmith's debut CD Stigma Style, order
here…http://www.ebay.com/itm/221530796594