Micky Makes Em Smile in Liverpool! (video)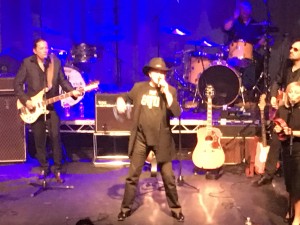 by Charles F. Rosenay!!!
I have always tried to convince Cavern City Tours to bring a Monkee to Liverpool for its annual BeatleWeek. We came close in 2012 when Davy Jones almost hosted my "Magical History Tour" to Manchester, London & Liverpool for fans (www.LiverpoolTours.com).
The group of fans that year made it to Manchester but sadly Davy wasn't there with us. He passed away a few months before.
At long last Micky Dolenz was one of the special guests of honor at BeatleWeek 2016, along with such artists as The Searchers' Mike Pender, The Hollies' Terry Sylvester, Mark Hudson, Steve Holley & Laurence Juber of Paul McCartney & Wings, Blondie drummer Clem Burke, The QuarryMen and others. Non-music guests included George Harrison's first wife Pattie Boyd and her sister Jenny Boyd at their first-ever convention together, and John Lennon's sister Julia, a BeatleWeek regular.
For a Beatles/Monkee/Micky fan, Liverpool was a dream come true. On Sunday, August 28, Dolenz was interviewed in the main ballroom stage by Beatles sage and music historian Mark Lewisohn. Although nothing new was revealed, Micky related all his great stories and tied in as many Beatles connection and recollections as possible.
One day later, August 29, as part of a tribute concert to the year 1966, Micky stole the show with a mini-set that featured Clarksville, Pleasant Valley Sunday, Daydream Believer (no mention of Davy) and I'm a Believer. He wore a Beatles logo t-shirt and trademark hat. With guitarist Wayne Avers at his side(no Coco or anyone else from the Monkees' touring band), the kickass Mersey band The Rockits and female back-up singers The Ladybugs, Micky delivered the four classics note perfect and with great energy. The historic Royal Court Theater was sold out, and everybody was smiling and singing along.
I had the opportunity to chat with Wayne Avers for a while at the convention. He was in great spirits and happy that they could actually get to see a little more of Liverpool than they do when the band tours, and all they see is the venue and a hotel room. I asked Wayne if Micky might be singing She Makes Me Laugh the coming day at The Cavern, and he told me they would be doing Here Comes Summer because it was the more popular Good Times cut in England.
Cheers,
Charles
Video clips: