'Listen to the Band!' The Monkees are coming to Jacksonville's Florida Theatre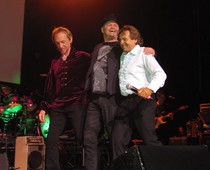 Florida and South Georgia folks are in for a definite treat, as The Monkees are scheduled to perform next Monday, June 6th, at the historic Florida Theatre in Jacksonville. Showtime is at 8 p.m., with the concert set to last approximately 2.5 hours, including a brief intermission.
Comprising heartthrob Davy Jones on lead vocals/percussion/acoustic guitar/, drummer/guitarist/lead vocalist Micky Dolenz, all-around musician Peter Tork on guitar/bass/banjo/keyboards/French horn, and an eight-piece backing ensemble (largely from Davy's live band), the tour is entitled "An Evening With The Monkees – The 45th Anniversary Tour."
Jacksonville will be The Monkees' fourth stop on the North American leg of the 30-city tour. All the band's greatest hits will be on display, including "Last Train To Clarksville," "I'm A Believer" (revived by Smash Mouth in the animated blockbuster Shrek), "Daydream Believer," "Pleasant Valley Sunday," and "Valleri."
True fans of the band will rejoice at the inclusion of the complete Head album in Jacksonville. Never performed in concert by the band, the 1968 cult film was co-written by one Jack Nicholson. It successfully debunked The Monkees' cooker-cutter image, confused the teenyboppers, and performed poorly at the box office, yet it is now seen as a minor classic.
Many album cuts and lesser singles are also part of the setlist (sequenced by Davy Jones), and at 40 songs and a 20-minute intermission, there should be something for everybody. These include "What Am I Doing Hangin' 'Round," "Listen to the Band," "Goin' Down," "For Pete's Sake," "Mary, Mary," and "I Wanna Be Free."
Last week the band completed a highly successful two-week tour of the UK at notable venues such as Liverpool's Echo Arena and London's Royal Albert Hall. Being their first tour in ten years, reviews have been generally good, with fans overjoyed to see them.
via 'Listen to the Band!' The Monkees are coming to Jacksonville's Florida Theatre – National Pop Culture | Examiner.com.