Hey Hey We're the Monkees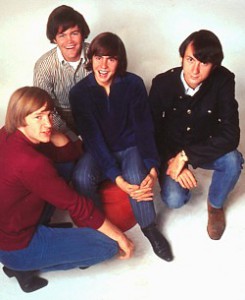 I recently read an interview with former Monkee Davey Jones. He was talking about yet another reunion of the Monkees celebrating 45 years. Of course their last tour 10 years ago ended with Peter Tork quitting stating he could not deal with Mickey Dolenz and Davey Jones abusive drinking. How can this be? Those good little boys that had teens screaming I remember the birth of the Monkees 45 years ago and it got me thinking…
The Monkees was a sitcom that aired from 1966 to 1968. This boy band had young teen girls screaming for more. Four young men, Micky Dolenz, Michael Nesmith, Peter Tork, and Davy Jones became the Monkees who were initially supervised by producer Don Kirshner and took the world by storm.
The four were the front men to this comedy series which first aired on September 12, 1966. Interesting fact, the producers interviewed over 430 young men hoping to become part of the Monkees. Stephen Sills almost had the part, but his teeth were bad and Peter Tork finally took the role. I keep thinking thank goodness Stephen Stills did not make the audition as he is one of my favorites to listen and could not imagine him being a Monkee.
The Monkees was nothing more than a manufactured band with 4 young men who were carefully selected at auditions. In fact, real musicians were hired for their albums such as Carole King who played keyboards, Tommy Boyce and Bobby Hart played guitars, keyboards, backing vocals, and Neil Diamond did some vocals.
These four men eventually began to play some instruments good enough to begin to tour in front of screaming young teens. I am pretty sure no one thought they would become so famous and have so many hits like I'm A Believer, Pleasant Valley Sunday, Daydream Believer, Steppin' Stone, Valleri and a song about the draft Last Train to Clarksville. They outsold out sold both The Beatles and Rolling Stones combined. How's that for a manufactured boy band?
What I recall the most about the Monkees was my sisters crush she had on Davy Jones. Her room was filled with posters and pictures of this English lad. She had a small piece of red clay on her closet door that was exactly 5 feet and four inches because that was how tall Davy was. Now that is a crush!
Then it happened. My sister's dream came true. We were off to see the Monkees in concert. I think I was in 7th grade and the excitement in the car was crazy. We entered the stadium and I recall lots of young teens with camera and mothers in tow. Then the lights dimmed down, and hey hey we're the Monkees came on stage.
What happened next amazed me. Women were fainting and there were men at the end of each isle and our job was to pass the limp bodies to the end of the row so the young teens could be tended to. I laughed. I was a young tween who wanted to be a hippy not some boy crazed girl and I laughed so hard I almost wet my pants. I was laughing because how could these young girls possibly see their idol when they were unconscious? They waited forever to see them, and then they were taken away. I still laugh today. I don't recall much of that concert except for screaming girls who were pulling their hair and crying and being unable to hear much over the screams.
I suppose I would never trade that experience because over 40 some odd plus years, I recall that concert and the excitement, the anticipation, and then a wall of fainting women as if it were yesterday. Oh indeed memories! Though I tried, I was not a big Monkees fan. I liked a few songs and actually I like listening to some of their songs today more so than when they were popular.
So hey hey Monkees fans, Davy, Mickey and Peter might be coming to a town near you soon and you might get a chance to see them 45 years later. I doubt if you will have to pass unconscious women to the end of the row though so don't worry.