Hey, Hey! The Monkees Reunite for Performance at Chumash Casino Resort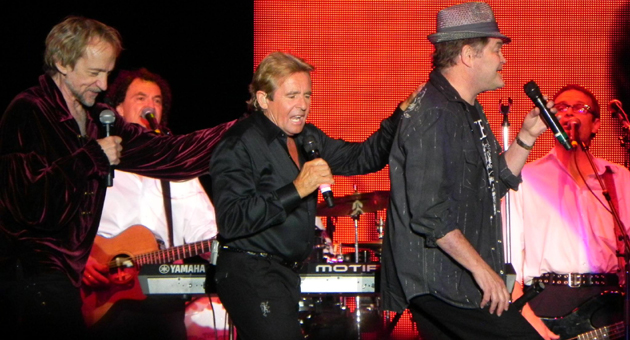 The 1960s TV show band The Monkees reunited Thursday night at the Chumash Casino Resort for an energetic 2½-hour performance.
Americans Micky Dolenz and Peter Tork and Englishman Davy Jones were part of the reunion. Michael Nesmith was not.
They performed almost all of their top hits, including "I'm a Believer," "Valerie," "Last Train to Clarksville," "I Wanna Be Free," "She," "Daydream Believer," "Pleasant Valley Sunday," "Listen to the Band" and "Shades of Gray," plus many lesser-known songs. And the rest of the band finished with the Monkees theme.
The evening was made more interesting with some inside stories of the band and the times. Their contract forbid them to talk about the Vietnam War, the civil rights movement, the environmental movement or anything "controversial" or "political" happening at the time. It was the height of the 1960s!
The band was really created as a prop for a TV show based on The Beatles' film Hard Day's Night. It was never intended to be a real band that would go on tour — let alone be performing 45 years later. The Beatles were flattered by the imitation and befriended the group.
At first, band members said, their Monkees records were released without them even knowing about it. They fought to have control over their music and performances. Many well-known musicians wrote their music behind the scenes, including Neil Diamond, Harry Nilsson and Carole King, who was especially noted.
It was a trip back in time, complete with continuous video of the original Monkees performances from the 1960s running in the background. Most enjoyable as well as a window to behind the scenes.
Tork said attendees were welcome to take photos and even videos of the performance — and could even make money off of it. He just asked one thing: "If you figure out a way to make money off of us, please let us know how you did it. We have never figured out how ourselves!"
via Hey, Hey! The Monkees Reunite for Performance at Chumash Casino Resort – Noozhawk.com.