Davy Jones Tribute celebrates man behind the Monkee
From: Brad Waddell, Webmaster
Thanks to everyone who attended the sold-out Davy Jones tribute April 3, it was a joy to attend not only for the love and affection for Davy show by the many performers and band mates in attendance, but also the large number of  web fans who showed their support for Monkees.net! We are more than grateful for your support because we do this web page and alert list for the fans!
Peter and Micky
The show featured tributes from many contemporaries of Davy, friends and family as well, starting out with 2 of his 4 daughters, Talia Jones and Anabelle Jones, the master of ceremonies was "Cousin Brucie" Morrow, Monkees TV show alumnis Deana Martin, Tommy James and members of Davys backing band through the years.
There were many video clips of rare Davy moments, including Davy working on projects outside the Monkees, including "Your Personal Penguin" and his horses.
The touring band performed many rarely performed Davy songs such as "The Greatest Story Ever Told" and "Rainy Jane". They also concocted special lyrics to the song "Mary, Mary" and sang it as "Davy, Davy, where've you gone to?" before introducing Peter Tork and Micky Dolenz to sing "Hangin Round", "You and I", "I'm a Believer" and finally "Daydream Believer".
The show was a charity event to benefit the Davy Jones Equine Foundation, dedicated to resuce of injured horses. Donations will be taken at the new domain name ManchesterCowboy.com, although at the time if this writing, there is no web site there. The organizers told me to refer you to email address:  info@Manchestercowboy.com if you wish to make a contribution. Donations to the Davy Jones Equine Memorial Fund can also be mailed to:  PO BOX 121432 Nashville Tennessee 37212.
We made a special gift for fan club members who attended with their special badges, a lighted pendant, which you could see all over the concert hall lighting up the faces trying to hold back the tears.
We gave these colorful gadgets away free to everyone we could find with the fan club badge, but got mobbed by others who also wanted one, so i guess the were the hit of the show!
Sorry to anyone we could not accommodate, but it was not permitted for us to sell them at the charity event. We do have a number of them available on ebay for purchase now if you want a little part of the history of that night, and we hope to simply make back the cost of making the item for the fans on that special night!
Photo Gallery: Zimbio
Below Photos Brad Waddell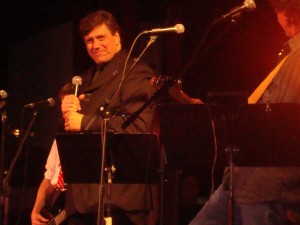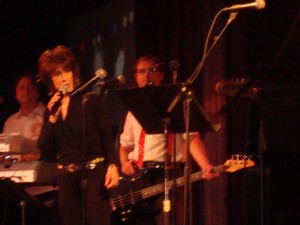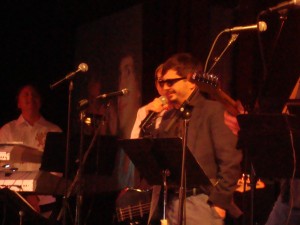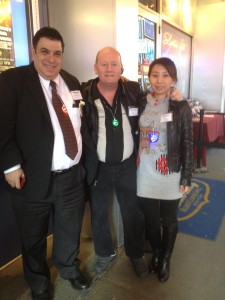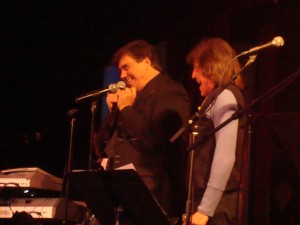 Below Photos courtesy Mercury News Service
Talia Jones
Talia Jones and Annabel Jones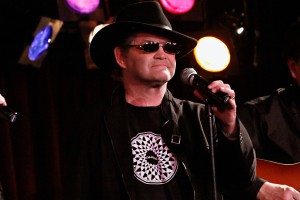 Micky Dolenz
Peter Tork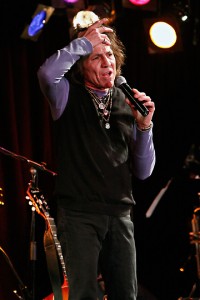 Drummer Sandy Genarro
Gene Cornish of The Rascals
Bruce 'Cousin Brucie' Morrow and Tommy James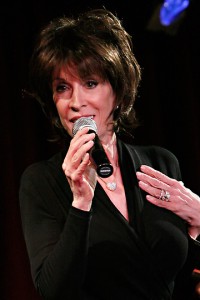 Deana Martin
Drummer Sandy Genarro