Davy Jones Memorial On Broadway!

Photo by Fred Velez
Report by Fred Velez
Davy Jones who began his career in America as the original Artful Dodger in 'Oliver!' on Broadway was honored in a special ceremony held at the world's famous Sardi's Restaurant on Broadway on June 21st, 2015. The event spearheaded by Jody Proetta and Jerri Keele was attended by Monkees fans from all over the world.

The World Famous Sardi's Restaurant

Journalist Dr. Kathy McCoy
The main ceremony was held at Sardi's, the famous hangout for many Broadway stars. Many special guests spoke at the event. Journalist Kathy McCoy related seeing Davy in 'Oliver!' many times and told a charming story of nervously interviewing Davy early on.

Cathy Whitehead – Photo by Fred Velez
Cathy Whitehead who had recently purchased the Beavertown church Davy intended to turn into a community center/museum and gave the fans an update on progress on the church.
Singer Chris Pick entertained the fans with several songs written by Davy Jones and his own tribute to Davy, 'Finally Free'.

Chris Pick – Photo by Fred Velez

Video by Teri Grugle Holamon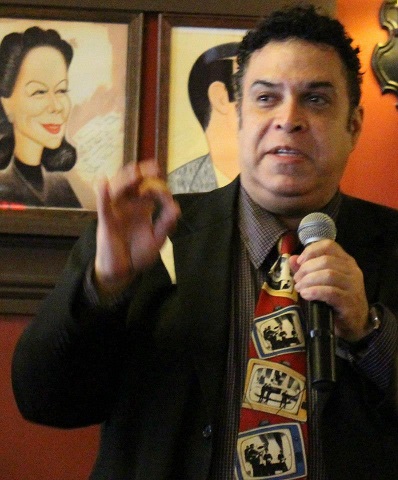 Fred Velez at Sardi's
Monkees author and Blog writer Fred Velez followed relating his story of being at Davy Jones' Beavertown home helping pick the photos for Davy's 'Mutant Monkees' book and seeing and being warmly greeted by Davy's Daughters at the Davy Jones Auction in May. Fred asked everyone to raise a glass in a toast to the memory of Davy Jones.

The Monkeephiles, John Roginski and Paul Venturi – Photo by Fred Velez
The Monkeephiles, lead by John Roginski and Paul Venturi, came on and did a selection of Monkees songs Davy Jones sang lead on. The Fan's at Sardi's got up and danced during numbers like '(Look Out) Here Comes Tomorrow' and 'Cuddly Toy'.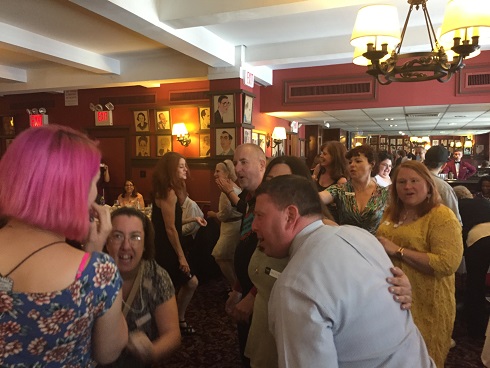 Fan's Rock the floor at Sardi's! – Photo by Fred Velez

David Alexander – Photo by Fred Velez
Monkees' band member David Alexander took the stage and sang several Davy favorites including 'Girl' and was joined by the Monkeephiles for a couple of numbers.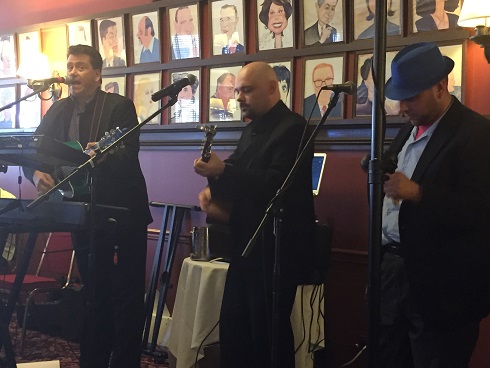 David Alexander and The Monkeephiles – Photo by Fred Velez

Buffy Ford Stewart – Photo by Fred Velez
After a short dessert break, the fans at Sardi's received a special surprise when Monkees' actress and long time friend Valeri Kairys Venet came on stage to introduced special musical guest Buffy Ford Stewart, the widow of the late John Stewart who wrote 'Daydream Believer' and many great hits of his own. Buffy charmed the fans with songs from her husband's vast catalog as well as her own songs which were all greatly and warmly received. Buffy then asked The Monkeephiles back onstage to lead the fans in closing the Sardi's event with an emotional performance of her husbands' song 'Daydream Believer'.

Buffy Ford Steward joined by The Monkeephiles – Photo by Fred Velez

Fred Velez with Valeri Kairys Venet
As the event at Sardi's began to wind down, the Fans were invited to go to Central Park to mark the end of the day's festivities by gathering at the tree that Davy Jones used to hang out by during his tenure in 'Oliver!'. Fans walked, took taxis and the subway to get to the Central Park location near the west 59th street entrance of the park. After all the fans met, all took a short walk down one of the paths that led to the game field area that Davy's tree was located. The tree will be officially commemorated with a tile dedicated to Davy Jones where other trees have been memorialized.

Fans gathering near the Davy Jones Tree in Central Park
Fans gathered around the tree and snapped photos with it. The special day was capped off by David Alexander who led the fans in a heart-felt rendition of 'Daydream Believer'.

Fred Velez with David Alexander at the Davy Jones Tree

Video by David Alexander
It was the perfect ending to a special day to remember Davy Jones. I'm sure Davy was looking down and smiling.

Fred Velez with the Davy Jones Tree in Central Park
Fred Velez, 2015.
Fred Velez is a Blog Writer for the Monkees.net and the author of the book 'A Little Bit Me, A Little Bit You: The Monkees From A Fan's Perspective' as well as the Monkees' themed Christmas CD 'A Little Bit Christmas'.
UPDATE – 6/24/2015: There have been some questions of whether the alleged Davy Jones 'tree' is the actual tree Davy Jones used to sit under during his time in 'Oliver!' or whether it is actually receiving an official recognition by Central Park. The Sardi's event was a respectful tribute to Davy Jones and his association with Broadway and I reported it as such.
If there are further updates on the official status of the Davy Jones 'tree' it will be noted in a future report.
Fred Velez, 2015.