CONCERT REVIEW — Magical 'homecoming' for Monkees fans at Lowell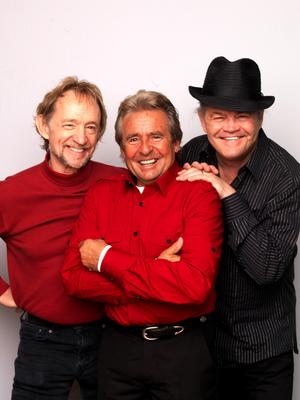 So they're no longer the Young Generation.
But at a 45th anniversary reunion concert June 15 at the Lowell Memorial Auditorium, the Monkees – with three of the four original members Davy Jones, Peter Tork and Micky Dolenz – proved they still had plenty to say.
And so did their devoted fans, from those who adored them from the days of their launch as a comic television act in 1966, to those believers of more recent daydreams.
Yes, they were still very funny, cracking wise with self-deprecating remarks about themselves and each other. And the clips of the show, with the wonderfully disarming psychedelic backdrops and hoards of screaming females giving chase in miniskirts, created an atmosphere of period charm.
But make no mistake – the Monkees were and are a good band, with a range of songs now firmly rooted in the subconscious of popular culture, from the starry-eyed "Daydream Believer" to edgier fare such as "(I'm Not Your) Steppin' Stone."
A particularly endearing sequence – images of covers of magazines for teens, such as "Tiger Beat" and "16," and the hilarious product placement moments, such as a day out with the kids and ice-cold glasses of Kool-Aid.
For many who grew up in the Boston area, there were many recollections not only of the music, but the show, which aired in reruns on what was then WLVI Channel 56 and the conduit for a latter generation's introduction to the group.
While transporting the venue back on a groovy time trip of four and a half decades, there was nothing tired or wistfully nostalgic in the show, with unflagging energy right to the finale.
Only one aspect of the evening that disappointed was a crude reminder that we're not in the 1960s, but the year 2011 – the constant flashes from cameras, and shutter bugs literally working in shifts, parading to and from the front of the stage to take souvenir snaps.
Just tryin' to be friendly? More like a gross sense of entitlement and the assumption that merely being in possession of the technology means decorum is so 20th century.
This virtual lightning storm that plagues many concerts nowadays not only detracts from the enjoyment, it is potentially dangerous to performers on the stage.
There was a lot of love in that room, to be sure – but a first-rate act such as the Monkees also deserves respect, as do audience members who invested in tickets during a challenging time. Neither deserves, as goes another vintage song, to be blinded by the light.
via CONCERT REVIEW — Magical 'homecoming' for Monkees fans at Lowell's Memorial Auditorium – Acton, MA – The Beacon.