Brady Bunch Convention with Emily Dolenz
by Fred Velez
The producers of the 2013/2014 Monkees Conventions helmed a convention for the Brady Bunch at the Hilton Meadowlands on August 15, 16 and 17, 2014, the site of the recent Monkees conventions. Barry Williams, Christopher Knight, Mike Lookinland and Susan Olsen from the original series were in attendance as well as Geri Reischl, 'Fake Jan' from the Brady Bunch Variety Hour and Robbie Rist who played Cousin Oliver from the final season of the original Brady series.

Geri Reischl, Mike Lookinland, Susan Olsen, moderator William Keck, Christopher Knight, Barry Williams
Also in attendance were members of the Brady Bunch movies. Among other attendees were Micky's daughter Emily Dolenz who was selling her artwork and photographs and Dave Alexander of the Monkees touring band who was the musical director of The Real Live Brady Bunch stage show from 1993 to 1995 and is where he first met Davy Jones and later became a member of Davy's band. Author Fred Velez was also at the convention with his book 'A Little Bit Me, A Little Bit You: The Monkees From A Fan's Perspective'.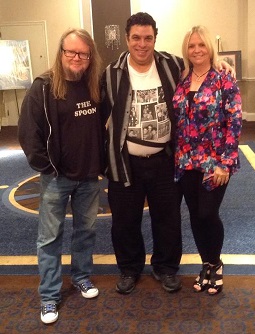 Fred Velez with Robbi Rist (Cousin Oliver) and Geri Reischl (Fake Jan)
The Characters who have performed at many Monkees conventions performed a great set on Saturday night with Emily Dolenz joining them onstage. Dave Alexander and John Roginski of the Monkeephiles performed with the Characters and while singing 'Daydream Believer' Emily could be seen onstage wiping away tears.

Dave Alexander, Emily Dolenz and Danny Solazzi with The Characters

Emily Dolenz with Danny Solazzi and The Characters

Friday August 15th began with a special memorial to the late Ann B. Davis who played Alice on the series who had passed away earlier this year. Geri Reischl sang a new song 'Beautiful Night' dedicated to Ann B. Davis while a video with footage of Davis throughout her career played on the convention screen.
Festivities over the weekend celebrated the many incarnations of the Brady Bunch from the original series to the variety show, spin-off series, TV specials and movies. Stand-up comic Heidi Mole did her very funny show 'My Very Brady Life' which had the convention in hysterics. Barry Williams also performed his stage show at the convention and was wildly received.

Barry Williams
During the convention Emily Dolenz graciously did an interview with author Fred Velez for an up-coming episode of the Zilch podcast and recorded a bumper promo for the podcast.

Fred Velez with Emily Dolenz
It was a fun, very Brady weekend for fans.
Emily Dolenz artwork and photographs available on her Etsy Store – EDolenzPhotos
Fred Velez, 2014
Author of 'A Little Bit Me, A Little Bit You: The Monkees From A Fan's Perspective'.