Author says Monkees reunion tour could be last chance for the band
Author says Monkees reunion tour could be last chance for the band
April 15th, 2011 12:58 pm ET  Steve Marinucci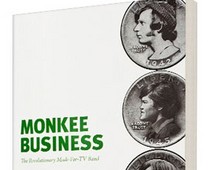 Eric Lefkowitz, author of "Monkee Business: The Revolutionary Made-for-TV Band," says he's surprised that three of the Monkees are reuniting for a tour, which starts in May in Liverpool, then heads to the U.S. Rehearsals for the tour are taking place this month.
"I am because I reported in the book that this tour was turned down by Davy (Jones) in 2010. And at the time, Davy was associated with having a fairly tumultous private life," according to tabloid reports, he says.
But, right now, says Lefkowitz, "He (Jones) is the power broker of the group. If you think about the last 10 years, which Monkee was on 'Spongebob Squarepants? It was Davy. Who got the Time-Life commercial? Davy. Davy does get the slightly more prestigious gigs, it seems now."
And Lefkowitz says the Monkees TV show was really made for Jones.
"The show was really modeled after Davy. He was there from the beginning. He was there for all the auditions. He was the most popular Monkee. But when the Monkees rebelled, which he didn't really want to do, and went for artistic credibility, which he wasn't really looking for at the time, the other Monkees really got the upper hand on the Monkees brand. And I feel like Davy's really wrestled it back and what we're seeing now is going to be done Davy's way."
Lefkowitz says the new version of "Monkee Business," which came out this year, is an extensive update of his older book on the band. He says he's been working on it for a couple of years.
"This is really a different book. It does include information that was in 'The Monkees Tale' (originally published in the '80s), including corrected information, but by and large, it's a book that follows them for 45 years so the last half of the book is pretty new. And some of it is really interesting stuff for Monkees fans because I don't think they've been put in this 45-year perspective yet."
"This (the new book) is better, it's more factually correct and I really believe it puts the whole Monkees phenomenon in a more interesting perspective."
via Author says Monkees reunion tour could be last chance for the band – National Vintage Rock 'n' Roll | Examiner.com.