Do you have a special Monkees memory or two (thousand!) that you want to share? I want to hear from you. Email me at Macwriter1@aol.com for future consideration on Monkees.net. Please be as detailed as possible in explaining your favorite Monkees memories. If your story is accepted, you must be able to provide photos from your collection and/or another with you and the guys.
Let me know!
By M.A. Cassata
"My husband Peter liked The Monkees, the music and the show. But it wasn't until about 5 years after we got married, did we really go crazy for The Monkees," says Tammy Mondschein in this installment of "My Favorite Monkees Memories."
"I became a Monkee junkie all over again and Peter became a bigger fan of them than before. If it weren't for him, I probably would never have gotten to see so many of their concerts, meet them or see both Monkeemobiles!!!
Tammy, who hails from a quaint little town in PA called Ricgboro is a second-generation Monkees fan. Like most nine year-olds at the time, she ran home from school every day to catch The Monkees in reruns. "I loved it!," she recalls. "I could tune in for a half hour and forget my troubles for the day. It was a temporary escape for me. The Monkees made me feel special. They didn't make fun or hurt me. That was important to me."
Some of Tammy's favorite Monkees songs include "I'm A Believer", "Pleasant Valley Sunday" and "You Told Me."
In fact, Tammy loved The Monkees so much she "belted out 'I'm A Believer' at an elementary school talent show. She also credits Davy for learning hoe to play the tambourine along with the maracas and other percussion instruments.
Read below for more of Tammy's most cherished Monkees memories over the decades including live performances, collecting memorabilia and attending the all-important Monkees conventions. Who doesn't have a few delightful memories from the two memorable Monkees Con in New Jersey?
Aside from your top three favorite Monkees songs, what other songs rate high on your list?
I also love "The Girl I Knew Somewhere", "Going Down", "Oh My My" and "Auntie's Municipal Court" and "Steam Engine". Michael's vocals are so strong and sexy on "You Told Me" and "You Just May Be The One". 'Someday Man", "You Can't Tie a Mustang Down" and "You're So Good To Me" are groovy Davy Jones tunes that really show his versatility.
What Monkees concert stand out the most to you?
I would say June 20, 2011 at The Hershey Theater in Hershey, PA. It was Micky, Peter and Davy. That was the meet and greet concert and it was the first time seeing them since 1986 when I saw them for the very first time at Great Adventure in NJ. This was my husband's very first Monkees show ever! The show was unbelievable!!! The videos that went along with the songs were so much fun to watch. Afterwards, we had our picture taken with them. I'll never forget it. I was speechless when I approached them. I remember saying "hi" and that's it!
I'm sure you have a few more special Monkee-meeting moments that you would like to share with our readers.
Yes! We have met Peter Tork many times and he is always so sweet, so kind, friendly, funny and ready to sign anything and have pictures taken with him. In fact, one time after his show at Sellersville Theater, I waited in line for an autograph and to have my picture taken with him. When he saw me he smiled and said "Hey I think I know you!" He remembered me! How special was that?!!!
What was it like for you meeting Nez for the first time?
Meeting Michael Nesmith for the very first time at The Monkees Convention in 2014 made me an absolute nervous wreck! We waited in line for about 2-3 hours to have our photos taken with him. When it was our turn I was shaking and I had bats in my stomach!
We know the feeling!
We said hi and then I told the photographer we had paid for two photos – one of my husband and I with Nez and then one of just me with Nez. After the three of us had our pictures taken he thanked us and said good-bye. That's when I said something like, "Wait. I paid to have a photo taken of just the two of us, too!" He let out a chuckle and smiled.
Later, I waited for an hour or two for the autographs sessions. I had my "And The Hits Just Keep On Coming" on his Pacific Arts Record Label for him to sign. When it was my turn, I told him that my grandmother bought me that record (at a local record store in Doylestown, PA) when I was a kid because he was a Monkee. Then I asked him why it was not on the RCA label. He explained it to me, quite enthusiastically, that the original album was released in 1972 on RCA and released at a later date. He signed it, smiled and I thanked him as I left. All I can say is, WOW!!!
Great story! What about your experience with Micky?
I also got to meet Micky again, get another autograph and another photo with him. He was very caring. I told him how much I enjoyed going to The Monkees concerts and he smiled and thanked me. What a nice smile he had.
One last thing from that same Monkees convention: There was a Monkees tribute band called The Characters, performing in the lobby. I was standing off to the side with my husband Peter, and I had my tambourine in my hand. Once in awhile I'd play along quietly to The Monkees songs they were playing. The lead singer saw me and gestured me to come and play along with them (their tambourine player was on a break or something). I played along to "Last Train To Clarksville." When it was over I started to return to where my hubby was but the lead singer told me to stay. So, I did! I did a lot of songs with them even after their tambourine player returned! I was on such a natural high!!!!! Cloud 9!!! And while I was playing, Micky Dolenz looked down from the upstairs viewing area and waved at everyone! So I know he saw me playing!!!!
Any last thoughts?
Yes, The Monkees music in a nutshell is "feel good music!" Some of the most important lessons I've learned from watching the TV show and listening to their music is that I should be myself and not be afraid to do so. It's okay to like the things I like and be who I am. I say, "dare to be different and dream!"
So thank you to The Monkees—Davy Micky, Peter and Mike! I love you all!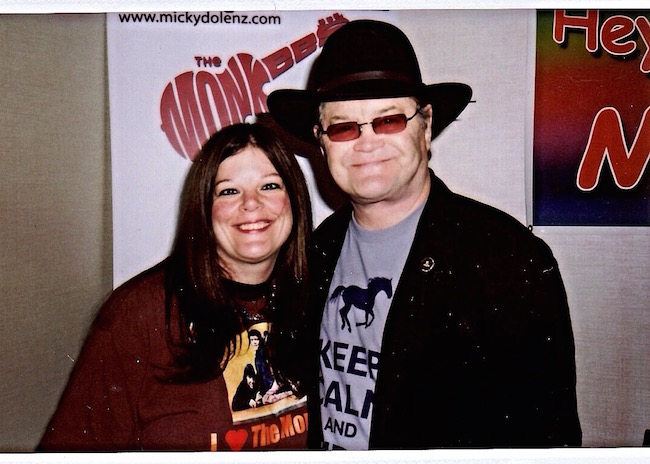 M.A. Cassata
Do you have a special Monkees memory or two (thousand!) that you want to share? I want to hear from you. Email me at Macwriter1@aol.com for future consideration on Monkees.net.  Please be as detailed as possible in explaining your favorite Monkees memories.  If your story is accepted, you must be able to provide photos from your collection and/or another with you and the guys.
Let me know!
By M.A. Cassata
"Why are we fans of anything?," asks Jan Barnes of New Orleans, LA. "I love The Monkees. I love the music. They were my first boy band. The TV show was so funny. I loved it."
Since 1970 Jan has always been a huge Beatles fan too, but she now prefers The Monkees, especially Peter.  But then again, who wouldn't have a big crush on Peter?  "I don't remember the first time I saw The Monkees, or heard them on the radio or saw them on TV, but I do remember being madly in love with Peter. I remember my mom telling me,'he's too old for you,' and I used to argue with my friend that Peter was the 'cutest' Monkee. When I was ten, I named my pet gerbil Peter." That's dedication!
This super Monkees fan also  acknowledges that our favorite four guys have become more than just a part of her childhood memories. "I am still excited by The Monkeees. They are a part of me. By still being a part of me. I am able to remain a kid."
Didn't Davy once say it so eloquently, "I still don't know what I want to be when I grow up?"
Check out Jan's personal website, Dreams Do Come True  which feature pics of her and favorite Monkee man, Peter Tork.
Read on for more…
How long have you been a Monkees fan?
Since 1970 I think.   I watched the Saturday morning reruns.
What was the favorite part of the TV show?
The romps!!!
Were you still a strong fan after the show ended?
Superficially for a while.  Once the TV show wasn't available, I still listened to their records, but I largely switched over to Beatlemania (the vicissitudes of youth!). I got back into them BIG time when Justus came out, and I discovered The Monkees' list on the Internet and realized I wasn't alone.
Do you have a favorite Monkee and why?
Peter! I think it may have started as a way to be nonconformist.  It seemed everyone else was into Davy.  And, my God! That smile! Even at 74 and after the surgery, he's still got that smile that makes me melt…I could go on!
I know what you mean! What is your favorite Monkees period and why?
I think the first season on TV.  I like the innocence they radiated.  I love the as well, but in hindsight, watching the show as an adult, they didn't seem to be as 'into' it as they'd been the first season…
How many times have you seen The Monkees in concert?
Let's see…Davy solo: six times; Davy, Micky, Peter together: five shows over a three day weekend, Davy and Micky three times over a long weekend, plus one other and— I'm going to see Peter and Micky next month. Have never has the pleasure of seeing Mike, though I do have several of his albums on CD.
How far have you traveled to see The Monkees in concert?
Las Vegas and Los Angeles. I live in New Orleans, LA.
What are some of your best Monkees concert moments and why?
Sitting front and center at four shows in Vegas.  Peter close up and personal! Getting backstage passes!!  Read my webpage for lots more!
What are some of your favorite Monkees memorabilia and why?
Besides the records (a couple original, but so scratched as to be unlistenable), I enjoy my collection of bubblegum cards, pin back buttons and my Matchbox Monkee Mobile.
What are a few of your favorite Monkees songs and why?
My fave has always been "Valerie".  Don't really know why.
What other TV shows did you watch growing up?
Gilligan's Island comes to mind, Partridge Family and Three Stooges shorts.
Anything more that you want to add?
Just this: I consider Paul McCartney to be my true love, David Cassidy to be my most enduring love,  and Peter Tork was my first love.  My husband knows he wasn't my first choice and he's ok with that. Really.
Photo Credits: Jan Barnes, Tony Barnes, and Laura Richard
M.A. Cassata
Entertainment Writer/Author