By Fred Velez
Friday Music has issued The Monkees 'Head Alternate', a limited anniversary vinyl edition of the 'Head' soundtrack. The new edition has alternate mixes of the songs and tracks from the original soundtrack which originally appeared on the Rhino Handmade 'Head' boxset. (Because this is a remastered/remix of the 'Head' soundtrack, the Jack Nicholson mixes are not on the album so his credit is not on the back cover).
The alternative songs include the stereo mix of 'Porpoise Song' with the long coda, a stereo mix of 'Ditty Diego', a stereo mix of 'Circle Sky' with Michael Nesmith's vocals up front and clear and are not buried in the mix as in the original version, a rough stereo mix of 'Can You Dig It' with Peter Tork's vocals. Side two has a alternate stereo mix of 'As We Go Along', a remix of 'Daddy's Song' which mixes an alternate vocal by Davy Jones with scatting from Michael Nesmith's version of the song and includes the slow verse reading by Davy. This version of 'Daddy's Song' is longer than the released version. The rough mix acetate version of 'Long Title: Do I Have To Do This All Over Again' has a different vocal by Peter Tork which features more of the backing track and a very prominent bass line. The album was mastered by Joe Reagoso and is dedicated to the memory of Davy Jones.
The album is pressed on 180 Gram translucent gold vinyl. The front cover of the album is on gold foil and the back cover is an alternate color shot of the Monkees originally issued on the Japanese version of the 'Head' album.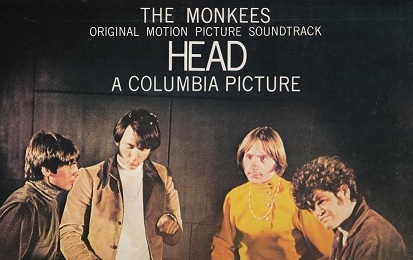 For collectors of Monkees vinyl records, the 'Head Alternate' is a nice addition.
Link: http://www.fridaymusic.com/pre-order-head-alternate-180-gram-audiophile-translucent-gold-vinyllimited-anniversary-edition-gold-foil-cover
Fred Velez, 2017.
Fred Velez is the author of the book 'A Little Bit Me, A Little Bit You: The Monkees From A Fan's Perspective'.
Link: A Little Bit Me, A Little Bit You: The Monkees From A Fan's Perspective