QA: Michael Nesmith on Solo Tour and Being the 'Difficult Monkee'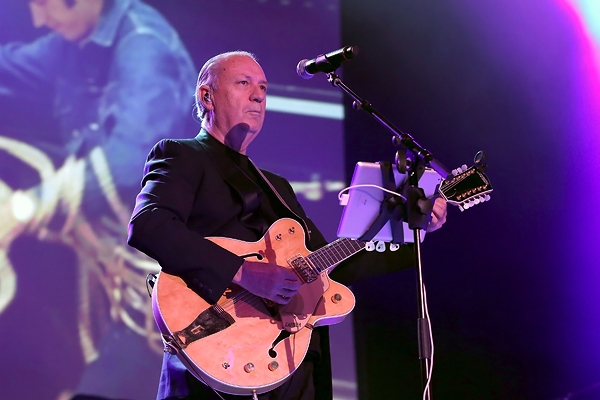 Mike Nesmith of the Monkees performs in Los Angeles.
Jonathan Leibson/WireImage
By Steve Appleford
April 1, 2013 12:55 PM ET
Michael Nesmith just launched his first U.S. solo tour in 20 years, with a set list emphasizing his post-Monkees career through elegantly performed pop, cosmic cowboy blues and storytelling. At his recent show at the Canyon Club in Agoura Hills, California, Nesmith stood with a 12-string guitar and his four-piece band to link the songs of his four-decade career, both emotionally and thematically.
"It's not really that long for me," Nesmith told Rolling Stone backstage of his long absence from the stage as a solo artist. "I just don't go out in public, but I play with these guys."
Exclusive: Michael Nesmith Remembers Davy Jones
During his nearly two-hour set, Nesmith said the songs "play out like little movies in my head," opening with "Papa Gene's Blues," from the Monkees' 1966 debut. He followed with early country-folk solo hits and later conceptual works (including 1974's The Prison) before signing off with a one-song encore of "Thanx for the Ride," which included a sample of an eerie but exciting pedal steel solo by his late collaborator O.J. "Red" Rhodes.
Also backstage afterwards was fellow Monkee Micky Dolenz, smiling beneath a black cowboy hat. "I love his stuff. It's just so beautiful – he's a poet," Dolenz told Rolling Stone. "I think my next CD is going to be Dolenz Does Nesmith."
We caught up again with Nesmith, 70, by email to talk about the tour, his long career in music and film, and his ongoing role as a Monkee.
This is your first U.S. solo tour since 1992. Why did you stay away from touring as a solo artist for so long?
For me, touring takes a mindset that I wasn't in for many years. A couple of years ago I had an idea that I could see was only realizable on stage in a live performance. And with that thought came the idea that I would like to be out and performing again. So both of those roads led to where I am now.
Read more via QA: Michael Nesmith on Solo Tour and Being the 'Difficult Monkee' | Music News | Rolling Stone.