My Favorite Monkees Memories With Helen McGlynn Nooner
Do you have a special Monkees memory or two (thousand!) that you want to share? I want to hear from you. Email me at Macwriter1@aol.com for future  consideration on Monkees.net. Subject bar should say "My Favorite Monkees Memories."  Please be as detailed as possible in explaining your favorite Monkees memories.  If your story is accepted, you must be able to provide photos from your collection and/or another with you and the guys. Sorry, your story will not be considered without photos to support it. Thanks!
By M.A. Cassata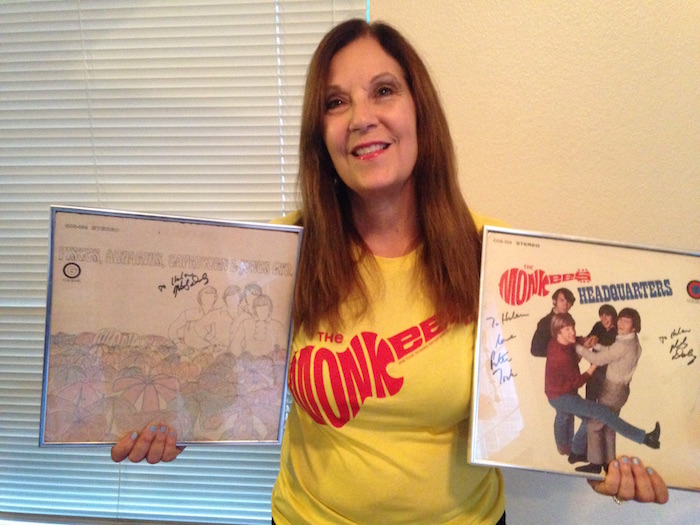 (All photos):Helen McGlynn Nooner
In this installment of My Favorite Monkees Memories, we have lifelong fan, Helen McGlynn Nooner.  She was just 12 years old when she discovered The Monkees in 1966. She became friends with three other girls and each of course had their personal favorite Monkee. Helen's was Micky.
"With Junior High being rough,  we met every lunch period and talked about The Monkees." she recalls. "We played "The Dating Game" and The Monkees were the contestants."
One of Helen's friends was fortunate enough to have a color TV and the girls would get together every  Monday night to watch The Monkees in color. What a treat! Not everyone had color television sets back in the mid-to-late 60s. Hard to imagine now, but true.
Like any other Junior High student, Helen bought all the popular teen magazines of the day, "16", "Tiger Beat" and "Teen Scene". "My wall had Micky pictures all over it! I glued pics of Micky to my school notebooks."
Her mom even made her a  special poncho just like Micky's (from curtain material). "It was blue-green with fringe. I remember wearing Monkees boot shoes that they sold at Thom Mcan stores."
Helen's got a great story here. Read on below to learn more about this self-professed "Monkees Super Fan!" You won't be disappointed! In fact, we think you will be entertained!
Why are you a Monkees Super Fan?
I am a Monkees Super Fan because I've loved them since 1966 when I was 12, and I still love them 50 years later! I am not ashamed to tell my friends and family of my love for the Monkees and am proud to say I am a super fan for life!
Do you promote the Monkees online through your social media or on a personal website?
Nothing other than I post pics of shows I have gone to on Facebook. I am a member of the Facebook Monkees Headquarters group and of course, Monkees.net.
Do you have a favorite memory or two from watching the show?
My favorite memory of watching the show is watching it every Monday night on a huge color TV at one of my best friends' houses in her big basement. Me and my other friends, Debbie, Melanie and I would have our parents drop us all off at Fain's and we would watch The Monkees together. We would lie on the floor and scream when our favorite Monkee was shown. Luckily, we each had a different one!
Were you still strong fan after the show ended?
Yes, if they ever come to town I would see them (together or individually). I continued to look out for them on other TV shows etc. Why, because they were so much a strong part of my life. How could you ever let go of something that was a part of who you are? I lived and breathed the Monkees daily for over two years and I can't just let that disappear.
Do you have a favorite Monkee and why?
Yes, Micky! Besides being super cute (swoon, and watching the old shows or videos at the concerts I see that he really was!) he was and still is a talented actor and so very entertaining! He could do accents and dress up and be other characters so well. He always seemed to be the one who you could tell was in his element going over the top and really hamming it up and I love that type personality. (I am a bit enthusiastic as well). And his voice, oh, his voice! He still has it even at 71! And I love drums and I even bought a drum set wanting to be like him (never did learn how to play properly!) I like that after The Monkees he became an excellent director and he makes furniture with his girls! And lastly, I like that he is and has always been proud to be a Monkee!
Do you have a favorite Monkees period?
Well, even though I am super thrilled they are finally getting the recognition from their peers (always had it with us fans!) for the latest record "Good Times" my favorite period was when they first came onto the scene. They influenced the clothes, the music, and were such a positive show and were fun to be fans of. I was part of that generation that loved them and followed them and screamed and had to hurry and buy the latest record. "Tiger Beat" and "16 Magazine" had them on the cover almost every week with big color posters inside (which lots of Micky adorned my walls). They were even in bubble gum with their pictures and I bought some Monkees shoes they sold at Thom Mcan. It was a fun and glorious time to be a teenage girl!
Have you met any of the guys and what was that like?
Yes, I met three of them! I got to meet Davy and Micky in a small club in Austin, Texas in 1976 at Big Daddy's Club/Flanagan's. I got to hug each of them after the show and they each signed a napkin (which is now a bit shredded).
They were very friendly and down to earth and I was kind of in shock!
Then, In 1991 I got to meet my heartthrob Micky, again! He was promoting his album Micky Dolenz Puts You To Sleep at Music Mania, in Austin. He signed two of my Monkees albums and I got a picture with him. He also was very personable. His mom was there and Micky mentioned she was from Austin. This was a dream come true for me.
Lastly, in 1997 I got to meet Peter Tork when he was doing a solo show at the Cactus Cafe in Austin. He also signed Monkees Headquarters (one of those Micky signed) and he was very kind as well.
How many times have you seen The Monkees in Concert?
Davy and Micky in 1976.
Michael solo in 1992.
Peter in 1997.
Billed as The Monkees:
Micky, Davy, Peter in 1986 (at the 20th Reunion)
Micky, Peter, and Mike in 2012
Micky and Peter 2016 (50th Reunion)
How far have you traveled to see The Monkees in Concert?
In 2012 flew from Austin to San Francisco to see the 2012 concert.
What are some your best Monkees concerts moments and why?
I just experienced one of my two best ones Sept. 29, 2016!
I wound up getting stand right next to the stage for the encore songs on the side where Micky was and he nodded at me and I got to dance along to "Pleasant Valley Sunday" and "I'm a Believer"! I was in heaven!
And my other favorite one was going with my best friend Fain (the one with the color TV) in 2012. We had excellent seats and sat right behind Davy's daughter!) This concert Mike was there and I about died when they starting playing "You Told Me" with him playing it! I had never gotten to see him with them until then.
A touching memory of that show was when they played "Daydream Believer" and the guys had the audience sing along as they said this was Davy's song. Lots of tears then, mine included as Davy had died that year.
What are some of your favorite Monkees songs and why?
"Pleasant Valley Sunday", I just loved this song when it first came out and still do till today, it just has a great tune that grabs you and is great to sing along with. "Daydream Believer" —Davy talking at the beginning and then how sweet the song is, and I love the video. "Sometime in the Morning"— I was so in love "with Micky and this song made me feel he was singing to me. "Valleri"—at the time was like a hard rock song, with the guitar and all.Combo of "You Told Me/Sunny Girlfriend/You Just Might be the One" — All Nesmith tunes and I adore the harmonies on these, couldn't choose between the three. "She Makes Me Laugh" (one off their newest album)—it was like hearing from an old friend to hear their sound again and it is a catchy tune and of course, Micky singing!
Do you remember the first time you heard the Monkees on the Radio or Saw them on TV? What did you think?
I honestly can't remember this! I just know they were something all of us at school in 6th grade had heard about and wanted to see and hear! It was like we all knew to wear miniskirts and poor boy shirts in 1967! What did I think? I was totally taken in by them the first time I saw/heard them!
What other TV shows did you watch growing up?
Well, the other shows I also watched at the time that the Monkees were on TV was "Mission Impossible", "Laugh-In," "Wild Wild West", "I Dream of Jeannie" "The Man From Uncle" and " The Andy Griffith Show."
What other music groups did you listen to besides The Monkees?
Well during their heyday the other groups were the Beatles, Three Dog Night, Guess Who, Fifth Dimension, The Association, and the Grass Roots.
Anything  more you want to add?
Yes, two other things I have strong memories about of The Monkees is that my friend Debbie and I choreographed an exercise routine in 7th grade PE class to "Look Out Here Comes Tomorrow." We thought we were cool! And in 8th grade during the more Psychedelic period, I begged my mom to make me a poncho like Micky's. She made me one out of curtain material that included fringe.
That's cool!
And one important thing, I have to say, is that when The Monkees started on the scene is when I started Junior High in 7th grade. It was a challenging time in life, I was just getting into the teenage years and that is tough enough and especially starting at a bigger school (leaving elementary) and being around lots of new people. But having the Monkees be the common denominator/bond between me and other girls gave me a way to connect and make new friends. We would play the dating game at lunch (different Monkees was a potential dates) and quiz each other from information we read in the teen magazines about them. We had so much fun and the Monkees were a big part of it!
Are you still friends?
Two of these friends I made back then have been my friends for over 50 years! So, I am a super fan for life! As the Monkees were a part of my history, and I am happy that I can continue having them be part of who I am.
P.S., my husband loves them, too!
M.A. Cassata
Entertainment Writer/Author