Mike Skype's NY Monkees Concert!
Reported by Fred Velez

Nesmith's Skype appearance at Monkees Town Hall concert. All Photos by Fred Velez
The June 1st Monkees concert at New York's Town Hall was a great evening full of fun and surprises. Micky Dolenz and Peter Tork led their excellent band that included Wayne Avers, Coco Dolenz, Dave Alexander, Rich Dart and John Billings, through a high energy performance that presented the hits and popular album tracks plus a couple of songs from the groups new album Good Times, especially the groups' new single She Makes Me Laugh. Beginning with 'Listen To The Band', the concert was high energy throughout the next two hours. Surprises included performances of rarities like 'Steam Engine' and Micky's first solo single 'Don't Do It'.
A highlight of the evening was Michael Nesmith's appearance through Skype which delighted the enthusiastic fans in attendance. Nez, Micky and Peter joked around a bit before Nesmith led the band in a lovely rendition of Papa Gene's Blues. Though he wasn't there in person, Nez's Skype performance brought high tech fun to the proceedings.
Nesmith commented on his Facebook page:
"Well I think we nailed it — the Skype call to the New York Concert — we sang Papa Genes Blues — seemed like it went well — no glitches — and it was a LOT of fun — we'll try to find another place to do another one. Watch this space!!"

Video by Robb Johnston
The late Davy Jones was fondly remembered with his isolated vocals for Shades of Gray and Daydream Believer being augmented by the band and Micky and Peter singing behind their greatly missed partner, tender moments that brought tears to more than a few eyes.

Video by Robb Johnston

Daddy's Song Outtake

Someday Man
During the intermission rare video clips compiled by Andrew Sandival were played including the Monkees appearance on the Glen Campbell show, the Head outtake of Davy Jones performance of 'Daddy's Song' on the white set and Davy's 1969 solo performance of 'Someday Man', all which will be on the upcoming Monkees Bluray box set.

Adam Schlesinger

Vrand Brescia
Besides Nesmith, other special guests appeared on the show. Adam Schlesinger Of Fountains of Wayne and the producer of Good Times joined the Monkees on stage to perform the song he wrote with Micky 'I Was There (And I'm Told I had A Good Time)' with Micky joining in on drums as well as 'Steppin' Stone'. Vrand Brescia joined the band during the encores to perform his song 'That Was This Is Now', the Monkees 1986 hit single.
It was fantastic show with Micky and Peter and the band giving 100 percent plus more, making it one of the best Monkees shows I've attended. Fans going to shows on the Monkees 50th anniversary tour are in for great fun, so be sure to wear your tablecloth ponchos and pink party hats!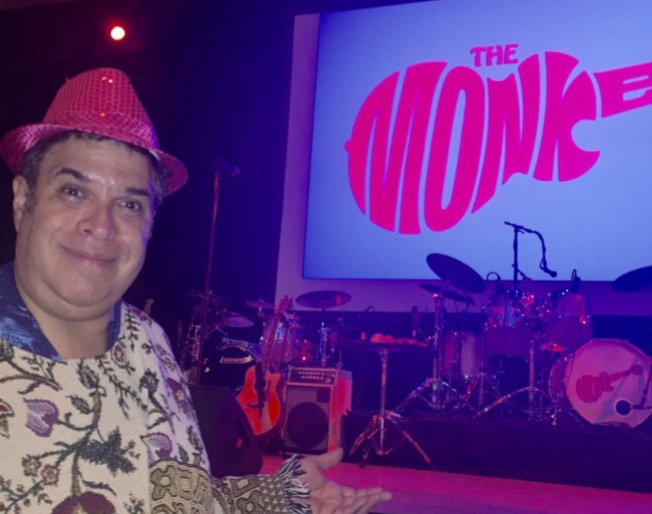 Photo by Linda Velez
Fred Velez, 2016.
Fred Velez is the author of the book 'A Little Bit Me, A Little Bit You: The Monkees From A Fan's Perspective'.
http://www.amazon.com/gp/aw/d/1496112288/ref=mp_s_a_1_1?qid=1464925331&sr=8-1&pi=AC_SX236_SY340_QL65&keywords=fred+velez