Micky Dolenz is coming to Philly! You have 48 hours to SAVE!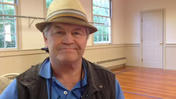 48 HOUR SPECIAL ON TICKETS! STARTS TODAY TILL TUESDAY! SHARE SHARE SHARE!
If you don't know already, Micky Dolenz will be doing an autograph signing on Black Friday and then that Saturday November 28 and 29th in Oaks Pa which is not far from Philly.
Micky will be joined by some really cool guests like Peter Criss from Kiss, Billy J. Kramer, May Pang, Ed Kowalczyk from the band LIVE, Denny Laine from Wings and the Moody Blues,
Artimus Pyle from Lynyrd Skynyrd, David Uosikkinen from the Hooters, Vince Martell from Vanilla Fudge, Richie Ranno from Starz, Jade Starling from Pretty Poison, and some surprise guests to be announced.
Eddie Trunk from That Metal Show will be there hosting Friday night doing Q and A's with the guests. There will be over 100 vendors and it will be a total blast. This is a great place to do your holiday shopping.
I was brought on to assist with the event and I have special offer for my Monkees friends. Tickets to this event are just $10 dollars! Yes 10 bucks gets you in to see all of these rockers and vendors but for my
Monkees friends, if you purchase your tickets Monday or Tuesday of next week, November 10th and 11th, and use the special code Monkees, you will get in for just 8 dollars!!
Even though it is for my Monkees friends, if you know anyone who loves any of the other guests announced, please share this special with them. Post on facebook, tweet, email, anything you want.
This will be so much fun and it is so inexpensive. There will be giveaways, contests and so much more. Tickets to sit in on That Metal Show taping, Tickets to sit in on Preston and Steve……… very cool.
Here is the link for details on the event. http://allthingsthatrockfestival.com/
DONT FORGET IT IS ONLY FOR 48 HOURS THAT YOU CAN SAVE WITH THE MONKEES CODE! One lucky fan will win a Limited Edition Autograph from Micky from the guys running the show.