Michael Nesmith At The Bergen PAC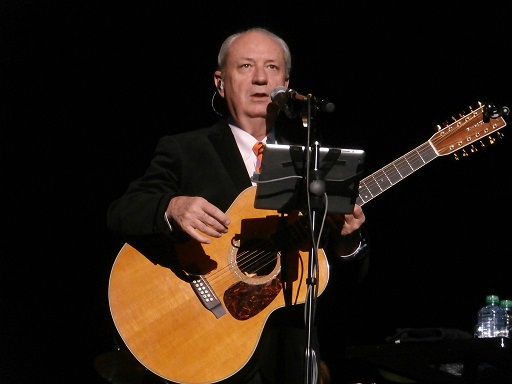 Photo by Linda Walsh
by Fred Velez
Michael Nesmith performed an incredible show at the Bergen PAC in Englewood, NJ on November 12th, 2013. Aided by the talented band of musicians who accompanied him during his Spring 2013 tour, Nesmith reintroduced his 'Movies of the Mind' concept, relating cinematic scenarios as a connecting factor to his songs, giving them a unique perspective that was more entertaining than doing a standard concert. Mike mixed the set list up a bit and offered some surprises by adding songs not done during the Spring tour. He started the concert with the opening melody of songs from his first solo album 'Magnetic South': 'Calico Girlfriend'/'Nine Times Blue'/'Little Red Rider', which clued the excited crowd in that this was going to be a special evening.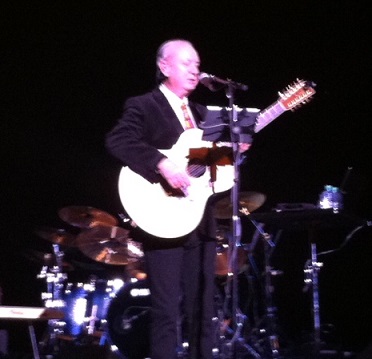 Photo by Fred Velez
Many Nez faves were performed like 'Joanne', 'Propinquity', 'Grand Ennui', 'Different Drum', 'Silver Moon', 'Rio', 'Crusin' that had the audience clapping along in time with the beat, 'Tonight' which had us all waving our "fingers of blue", plus more great Nez tunes, all with a story that set the mood for each song. Among the surprises were 'Light' and 'Dance' from the 'Infinite Rider' album, and 'Rising In Love' from 'Tropical Campfires'.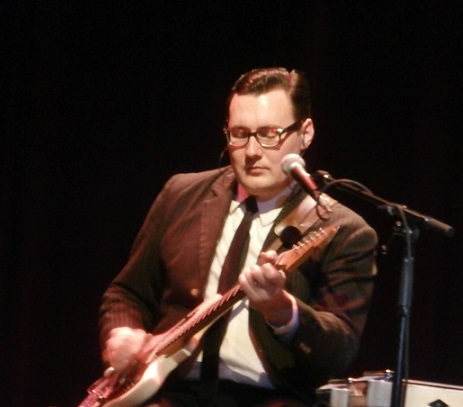 Chris Scruggs. Photo by Linda Walsh
The band thrilled the crowd as they did during the Spring tour, with Paul Leim on drums, Joe Chemay on bass, Boh Cooper on keyboards and the amazing Chris Scruggs on mandolin, steel and six-string guitar, with Nesmith on acoustic guitar throughout the show. During the entire concert, Mike looked like he was having as much fun as the fans were, his face radiating an appreciative smile, looking very relaxed, pleased and humbled that the audience was enjoying his music. He was very loose and animated during the show, giving his performance an additional boost that had the crowd loudly voicing their approval. For the encore, Nez pulled another surprise with the final song 'Listen To The Band', that combined the best elements of his solo version and the Monkees' version, with Cooper faithfully recreating the 'horns' sounds of the latter on his keyboards to the delight of the enthusiastic fans.

With keyboardist Boh Cooper. Photo by Linda Walsh
It was the perfect way to end a perfect evening with Papa Nez. Here's hoping he'll be coming to our way again soon.

Photo by Linda Walsh
Fred Velez, 2013