DVD Review: Keep Off My Grass
By Fred Velez
The screen fills with the solarized, psychedelic images of Micky Dolenz flailing about. Are these the opening scenes from 'Head'? Nope, it's the opening credit sequence from the ultra rare 1972 feature 'Keep Off My Grass', seeing its' first, official DVD release.
I recalled seeing Micky Dolenz promoting the movie on a American Bandstand type show in 1972 but never finding a theater that was playing it and then it just seem to disappear without a trace. British broadcaster and long time Monkees fan and expert Iain Lee had been tracking this film for years, and as he explains in one of the bonus interviews on the DVD, had almost given up hope when at the 2014 Monkees convention overheard someone say that they had just screened the film for Micky Dolenz, and after some negotiations Iain was able to secure the DVD distribution rights for the movie. The DVD was sourced from a VHS tape copy of the film which was then transferred to a DVD. After an extensive restoration process by Garrett Gilchrist that has considerably improved the image and sound quality of the movie, 'Keep Off My Grass' is now available for Micky Dolenz fans to purchase.
Directed by comedian Shelley Berman in his only directorial credit, the plot centers around a group of young, idealistic hippies who have been congregating in front of several store fronts curtailing the businesses of the frustrated shop owners. The merchants come up with an idea of buying up the ownership rights of a nearby deserted town and giving it to the hippies to live and start their own community so the owners can revive their suffering businesses. The hippies accept the offer and move en mass to the abandoned town and set up their own homes and businesses, finding some resistance from a neighboring town, especially a bigoted pharmacist and community leader, his brute of a son and his flirtatious daughter.
Micky plays the part of You Know, a naive goofball who hopes to start a marijuana "plantation" when the substance becomes legal and is starting with a single plant he's nurturing. You Know is also sex obsessed, constantly trying to score, though he's never been with a woman. When he eventually does 'score', he runs around excitedly telling everyone he meets, and is disappointed when no one believes him.
Though the movie has some comedic elements and is considered a "stoner comedy', don't expect anything on the level of Cheech & Chong and there's a freak-out scene that ends in tragedy that has no satisfying resolution. The acting is pretty amateurish in some places with Micky giving one of the better performances in the movie. Also, the idea of a Hippie movie was already somewhat dated by 1972 what with Glam, Disco and Punk on the horizon. The movie is of its time and the low budget shows in both the acting and production values with generic 'Hippie' songs added which made me wonder, what with Micky Dolenz as one of the movies' stars, why director Shelley Berman didn't include a couple of Micky's solo songs in the soundtrack, I could hear 'Oh Someone' over the opening and closing credits, a definite missed opportunity. However, keep a sharp eye during the Hippie/Jewish wedding scene and you'll spot the return of Micky's tablecloth poncho!
The DVD has several bonus features which includes Iain Lee's Monty Pythonesque interview on his long search for the movie, an interview with co-star Marcus J. Grapes, scene comparisons between the original quality and restored version of the film, the original movie trailer and a fun audio commentary of the film and trailer with the Zilch Monkees Podcast Team. And, if you're a fan of the vocal harmonies between Micky and his sister Coco, click up on the DVD menu for a special little "Easter egg".
Though not a great film and its dated premise, because of its ultra rarity 'Keep Off My Grass' is worth having in your collection if you're a Monkees and Micky Dolenz fan. Groovy Man, Groovy!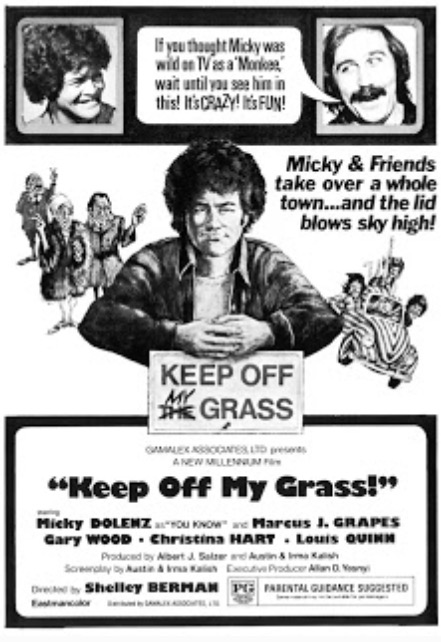 Order Link For 'Keep Off My Grass'
Fred Velez, 2016.
Fred Velez is the author of 'A Little Bit Me, A Little Bit You: The Monkees From A Fan's Perspective.
Link: A Little Bit Me, A Little Bit You: The Monkees From A Fan's Perspective