British Invasion At B.B. King's w/Itchycoo Park, The Blue Meanies and Dave Alexander!
British Invasion at B.B. King's w/Itchycoo Park, The Blue Meanies and Dave Alexander!
Review by Fred Velez
May 22, 2013- B.B. King's hosted an evening of 60's British Invasion hits featuring two great bands. Itchycoo Park from Scotland performed their first New York show performing lots of great hit songs by the Small Faces, The Who, Herman's Hermits, early Bee Gees and Fleetwood Mac and other great songs from the British Invasion period and they wowed the B.B. King's crowd.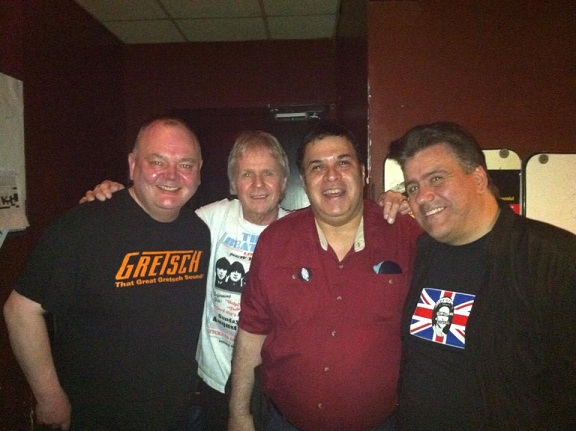 With Dave Alexander and the members of Itchycoo Park.

They were followed by the Blue Meanies who were accompanied on keyboards by Dave Alexander of the Monkees touring band. The Meanies, who played at this years' Monkees/Davy Jones convention, also performed a great set of British Invasion hits by the Animals, Herman's Hermits and other British bands. One of the highlights was a spirited version of the Freddie & The Dreamers hit 'Do The Freddie', and my Lovely Linda and myself danced 'The Freddie' in our seats and had a lot of fun, I think we were the only ones in the club who knew how to dance 'The Freddie'!
The evening ended with the Meanies inviting Itchycoo Park back onstage for the encores which included a foot stomping version of the Dave Clark Five's 'Glad All Over'. Overall, a fun night of British 60's hits performed by two bands who obviously love playing them.
I highly recommend you catch Itchycoo Park and the Blue Meanies if they perform in your area.
Dave Alexander and the Blue Meanies will be performing at the Davy Jones Memorial in Beavertown, PA on June 15th.

With Scott Ringle and Gary Owen of The Blue Meanies
http://www.itchycooparkband.co.uk/
http://www.bluemeanies.net/
Fred Velez, 2013